Seconds After KJP Gets Roasted Over Hunter – On Live TV, She Totally Humiliates Herself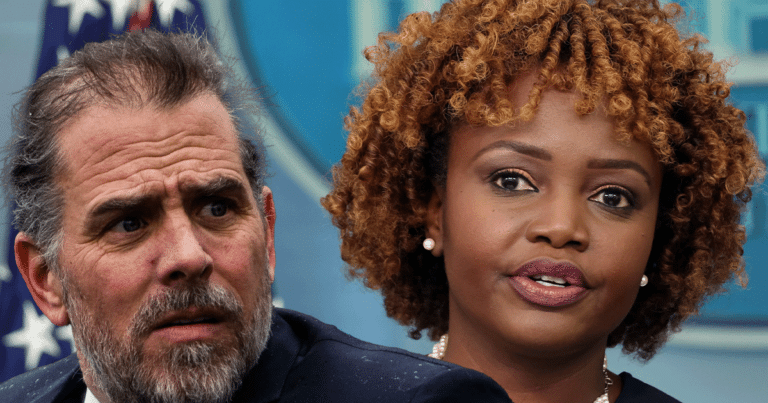 What's Happening:
The sage surrounding Hunter Biden and his many crimes is more than just an embarrassment to Joe and his family. It implicates Joe himself in what could be bribery, high crimes, and misdemeanors. What we have learned about Hunter and Joe could result in not only impeachment, but conviction for both of them.
So, I guess you could say this is a serious matter for the White House. Any reasonable administration would have something to say about this. Especially when you consider it is headline news that even liberal outlets are reporting on. But when the Press Corp called on Karine Jean-Pierre to respond, she did what she's best at: nothing.
From The Post Millennial:
The White House refused to answer questions in regards to Hunter Biden's criminal trial in Delaware on Wednesday…

"Hunter Biden is a private citizen and this was a personal matter for him… So for anything further, as you know, and we've been very consistent from here and referred to the Department of Justice, and to Hunter's representatives, who is his legal team, obviously who can address any of your questions," the White House press sec told reporters.
Wow. The "president's" son plead "not guilty" after his plea deal collapses. The judge orders him to get a job and stay sober. He can't even travel without submitting documentation to the court. This trial is related to tax crimes he allegedly committed while helping his father conduct a bribery ring–according to an informant.
Yet the White House refuses to say anything!?
As usual, KJP deflects. Does she do anything for the administration beside scold reporters? She claims Hunter Biden is a private citizen. No, he is not. He is the son of the most powerful politician in the country.
Democrats didn't say that about Trump's kids, when they dragged them through the mud. Liberals had a field day whenever anything remotely negative came out about Trump's family. But the "worst" thing to ever happen was Donald Trump Jr.'s divorce.
None of Trump's kids have tax, drug, and gun charges. None of them are implicated in a shocking scandal involving the vice presidency.
Yet the White House is passing the buck, saying reporters need to ask the Justice Department. Oh, I'm sure they'll get plenty of answers from them! This is the same department that tried to sweep Hunter's crimes under the rug with a sweetheart plea deal.
At the very least, the White House should provide an official statement that might reassure the country that Joe's innocent. But, chances are, Biden has an army of lawyers that are panicking. They are terrified of releasing anything because it might hurt Joe in the future.
That's the kind of "president" we have. One looking out for himself.
Key Takeaways:
White House press secretary KJP refused to answer questions about Hunter Biden.
Hunter appeared in court to face various tax and gun charges.
KJP claimed Hunter was a "private citizen," despite his activity with Joe Biden.
Source: The Post Millennial