After Miss Universe Contest Goes Ultra-Woke – They Get a Devastating Dose of Karma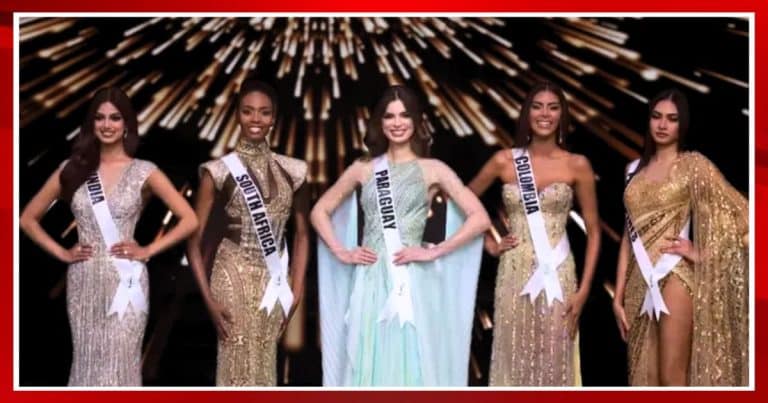 What's Happening:
Corporations around the world have joined the movement to push progressive culture to their customers in recent years. The movement has been heralded as a way to expand the marketing base and boost the bottom line.
Big-name companies such as Target and Bud Light have met resistance from their core customer base and lost money in the process. These companies and many like them are scrambling to refocus their marketing and regain lost customer support.
One internationally famous brand took the progressive infusion into its business practice to a new level. JKN Global Group, which puts on the 2023 Miss Universe pageant, includes transgender contestants. Now just days before the pageant this Saturday, the company is filing for bankruptcy.
According to Fox News, a public document sent to the Stock Exchange of Thailand from JKN Global Group declared that the company filed a petition for business rehabilitation with the Central Bankruptcy Court on Nov. 8. The court then issued an order to accept the petition the next day.
Thai business tycoon and transgender activist Anne Jakrajutatip of the JKN Global Group, Fox News reported, bought the pageant organization for $20 million in 2022. Jakrajutatip has achieved international fame as a transgender celebrity and previously described the pageant purchase as "a strong, strategic addition to our portfolio."
A year later and the pageant purchase appears to be following the financial success of other companies who promoted progressive stances with their products. Still, the show must go on as they say in the entertainment industry.
The Miss Universe Organization has announced that the 2023 pageant will be held in El Salvador on Nov. 18 where a "top notch experience provided to our fans" is a priority for the group.
The pageant is slated to feature at least two transgender people who identify as women. They include Miss Portugal, a flight attendant named Marina Machete, and Rikkie Kollé, who is the first transgender Miss Netherlands. The pageant's first transgender contestant was in 2018 from Sapin.
The pageant's parent organization has fully embraced the transgender movement and supports all its contestants.
"Trans women are women, full stop," the Miss Universe Organization told CNN in October, following Miss Portugal's crowning. "We are here to celebrate women, full stop. This has been true for more than a decade, and we're proud to have made this change very early on, compared to other programs."
Key Takeaways:
The Miss Universe 2023 pageant will feature multiple transgender contestants.
A year after a change in ownership the organization has filed for bankruptcy.
The parent organization has publicly stated that "Trans women are women."
Source: Fox Business