Mitch Turns The Tables On Nancy – Throws Down His Impeachment Gauntlet, Accuses Her Of 'Shoddy Work'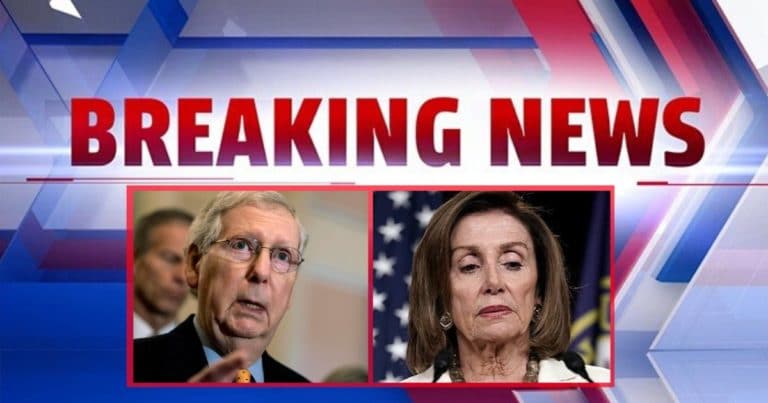 Pelosi thought she won on impeachment – here comes Mighty Mitch!
After years of holding off her impeachment-hungry base, Nancy Pelosi gave in to them and sealed the Democratic Party's fate.
House Democrats passed a partisan impeachment against Donald Trump. Not a single Republican voted to impeach. And a few Democrats voted against.
But just hours after their vote, Pelosi threw a wrench into the next process.
She screwed with the House rules, ignoring standard norms. So, why wouldn't she try to interfere with how the Senate handles their part of the process?
This entire affair shows Pelosi and the Democrats are not following our laws. They are scheming any way they can to remove Trump from office against the will of the people.
She is threatening to withhold the articles from the Senate, delaying the process, unless the Senate agrees to her demands.
But McConnell quickly dropped a hammer on her.
From Fox News:
Senate Majority Leader Mitch McConnell set the stage Thursday for a potentially bruising fight between the leadership of the two chambers over impeachment, as he tore into Nancy Pelosi for "shoddy work" and said Democrats may be "too afraid" to send the articles to the Senate after the House speaker abruptly held off on transmitting them.

"This particular House of Representatives has let its partisan rage at this particular president create a toxic new precedent that will echo well into the future," McConnell said.
McConnell fought back against Pelosi, calling her impeachment "shoddy work." He accused the Democrats of being too afraid of sending their articles over to the Senate.
Why? Because Pelosi knows they have no case. Democrats impeached Trump over flimsy accusations.
We've seen little proof that would hold up in a court of law. Pelosi can bet that when the process moves over to the Senate, Republicans will finally get their say.
In all this, Democrats have refused to let the president and the GOP have any input. It's as if… the Democrats are abusing their power!
Pelosi doesn't want the Senate to do its lawful job: to hold a trial and decide if Trump is guilty or innocent.
She wants to leverage her imepachment articles against the Senate until the majority does what she demands.
Sorry, Nance, but that's not how it works.
Mitch McConnell is not going to let this woman slow the process. The Democrats rushed through impeachment, voting on the weakest pretenses.
Now McConnell and Senate Republicans are going to expose them to the world.
SHARE if you want McConnell to shut down Pelosi's charade!
Source: Fox News