Minnesota Republican Calls For Investigation – Ilhan Omar Might Face Years In Prison For Perjury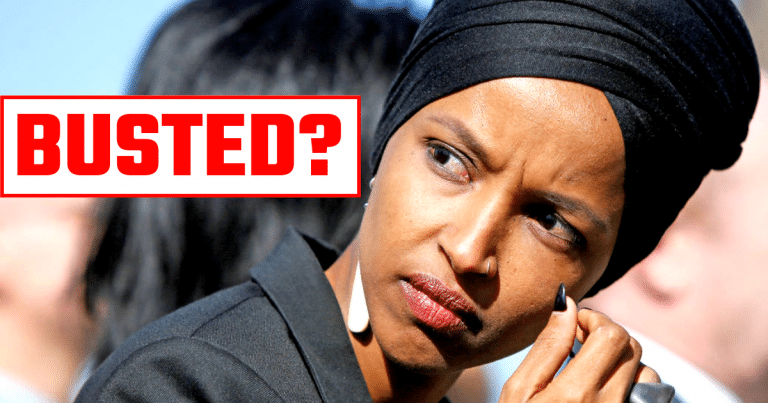 In her early days as a congresswoman, Ilhan Omar has not done what we call a stellar job.
Earlier this year, she was outed for making numerous anti-Israel statements. It forced House Democrats to pass a water-downed resolution condemning hate.
(Though, they were too cowardly to condemn Omar.)
She then went on to support legislation that would have allowed companies to boycott Israel. She was even banned from entering the country by their government—because she planned to meet with anti-Israel groups.
If I was a Minnesota resident, I'd think long and hard about upcoming elections.
Now, a Republican representative, Steve Drazkowski, is calling out Omar's past and demanding an investigation.
From Twitter:
Representative @SteveDraz has called on district judges of Hennepin County to investigate @IlhanMN for committing perjury in a 2017 application for a divorce from her alleged brother, Ahmed Elmi, who she married in 2009

Further criminal charges could be brought up against Omar.
Rumors about Omar's past marriage have circulated for some time. Many critics of the congresswoman have claimed she violated the law on several counts.
Rep. Steve Draz is now making even more assertions, that the woman committed perjury over her divorce.
We don't know for sure what Omar did or did not do. But Draz is convinced an investigation must be underway.
He is demanding that the people of Minnesota—and the country—know exactly what Omar was up to before she was elected.
Makes sense. If these claims are wrong, it will all blow over.
But if they're not, Omar has a lot to answer for. She got to power as a progressive, far-left Democrat.
I'm sure her supporters wouldn't like knowing she broke the law to get there.
The real question is, will Hennepin County bother to investigate? We have a pretty poor track record of our government investigating possibly crooked Democrats.
It always seems they get off scot-free. Meanwhile, Republicans, like the president himself, are investigated constantly for any reason it seems.
Maybe this county will be smart enough to do the right thing.
Do you think Omar should be investigated? Help get the word out!
Source: Twitter