Morgan Freeman Sounds Off on Race-Obsessed Liberals – The Legendary Actor Claims "I Don't Subscribe" to African-American Title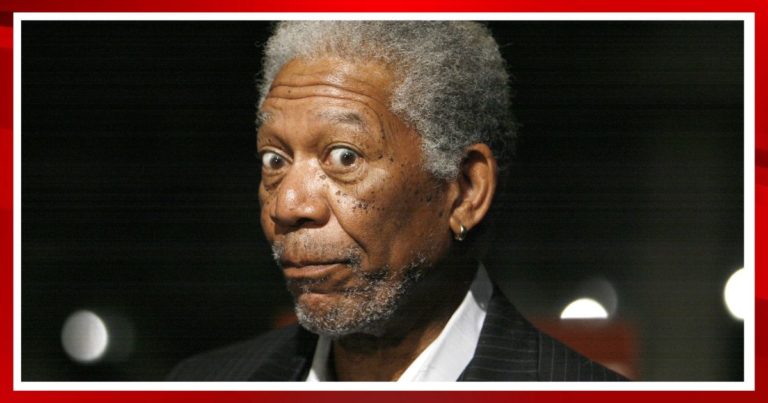 The issue of race has exploded in the past decade or so, and many critics maintain the only reason it's front-and-center is because left-wing politicians and activists keep shoving it down everyone's throats.
They say racism is only an issue now because the left made it an issue, and that has only served to further divide the country.
One legendary actor has spoken out about the topic several times, and he doesn't care if his views don't exactly fit the liberal agenda.
In speaking to the Times in London, veteran actor Morgan Freeman made some surprising comments regarding race (via The Blaze):
The 'Shawshank Redemption' actor added that the term 'African-American' is an 'insult.'
Freeman added that he doesn't "subscribe to the title" of African-American, and reminded people that black individuals come from places outside the continent of Africa.
He also doesn't seem to agree that discrimination and intolerance is much of a problem these days, as "everyone is represented." He added that "you see them all on screen now and this is a huge jump."
This appears to echo the sentiments of critics who say minorities and other so-called "oppressed" groups are actually far more visible than any of the "privileged" groups, especially in the world of entertainment.
The idea that they need to be promoted even more just doesn't seem to reflect the reality of the situation.
Back in 2005, Freeman did a "60 Minutes" interview in which he said he doesn't want a Black History Month because "black history is American history."
Host Mike Wallace then asked him how we're going to get rid of racism and Freeman's reply was as follows:
Stop talking about it.

I'm going to stop calling you a white man. And I'm going to ask you to stop calling me a black man. I know you as Mike Wallace. You know me as Morgan Freeman.

You're not going to say, 'I know this white guy named Mike Wallace.' Hear what I'm saying?
He also shot back at CNN anchor Don Lemon in 2014 when Lemon suggested that race plays a part in "wealth distribution."
Freeman quickly said he doesn't believe that at all and added, "you and I, we're proof." Which is precisely what millions of Americans keep saying today; there's plenty of evidence to show that this so-called "oppression" simply doesn't exist.
The actor has often said that the only reason racism dominates the news cycle is because they "make it a bigger issue than it needs to be."
That contributes to the problem and certainly doesn't help heal any rifts. Equality isn't about constantly looking at race and assigning blame; it's about being color-blind, which is all Freeman is saying.
To many, that makes perfect sense. But to the race-obsessed left, it's bound to ruffle a few feathers.
Key Takeaways:
Legendary actor Morgan Freeman said during an interview that he sees Black History Month and the term "African-American" as insults.
He added that "everyone" is represented now on the screen, and has said in the past that he doesn't support Black History Month.
In 2015, he told "60 Minutes" host Mike Wallace we need to "stop talking about it."
Source: The Blaze