MTG Makes Power Move to Help Trump – She Just Turned Investigation on Its Head with Genius Idea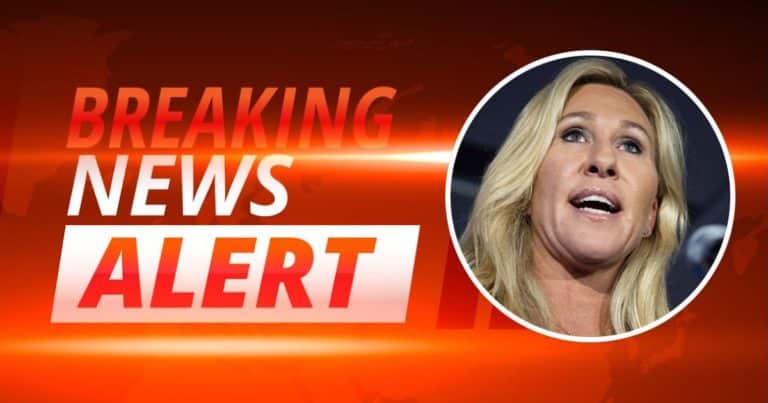 What's Happening:
Republicans are fed up with the legal system's double standard. Federal prosecutors continue trying to lock up the right while letting leftist Democrats get away with anything they want.
The country is in a dangerous place with the weaponization of federal law enforcement against political enemies. Conservatives everywhere must fight back to save the country.
Former president Donald Trump is the bullseye of targeting for radical prosecutors waging a war against American justice. One Republican leader continues to stand on the front lines and counterattack the out-of-control Department of Justice.
Her power move plans to cut the purse strings paying for the Trump attacks.
From Fox News:
"'Today, I'd like to announce that I'm writing an appropriations rider to defund Jack Smith, special counsel, his office and the investigation,' Marjorie Taylor Greene, R-Georgia, said Monday on the House Floor. 'This is a weaponized government attempt to take down the top political enemy and leading presidential candidate of the United States, Donald J. Trump.'

"Greene argued that Smith's investigation into Trump is politically motivated and claimed there was a double standard between Trump and Democrats who also were found to have removed classified material.

"'We cannot allow the government to be weaponized for political purposes,' she said. 'I'd also like to ask all of my colleagues to join me in this effort. We have to use the power of appropriations to stop the weaponization of government, especially in light that we know that there are others who are guilty of true crimes.'"
MTG announced her plans the day Trump was set to be arraigned in Miami, Florida, on 37 charges related to classified documents and alleged obstruction of justice.
These charges come as everyone in the DOJ and Congress knows that President Joe Biden had hundreds of boxes with similar information in them. No charges for Joe as the special counsel there drags his feet while the DOJ and FBI continue to protect him as they attack his political enemies.
Any "investigation" into Biden's decades of corruption is a sham and everyone on Capitol Hill knows it. The good news is MTG may be getting support from other Republicans.
From Fox News:
"'Don't forget Joe Biden's documents that are sitting in his garage next to his Corvette where the door opens and closes,' Greene said. 'America sees this for exactly what it is and we will not allow it to stand.'

"'Congress can and should hold the Biden DOJ accountable by defunding their efforts during the appropriations process, executing the Holman Rule to remove and defund corrupt officials, and conducting oversight on its baseless investigations,' Rep. Andy Biggs, R-Ariz., said in a tweet.
Republicans need to get behind any effort that stops corrupt Biden and his cohorts in federal agencies. Will MTG's plan work? Not likely considering any legislation passed out of the House must go before Senate approval. No Democrats are going to defund efforts to protect Biden.
Still, Trump's future is in danger and Biden's law enforcement attack force isn't backing down. In the face of opposition within a corrupt government, leaders like MTG must fight to protect what is right and put off what is wrong.
Key Takeaways:
MTG pushes legislative power move to protect Trump.
Republicans show support for efforts to stop weaponized DOJ.
This legal fight is real and Trump's future hangs in the balance.
Source: Fox News