After Mueller Hearing Crashes Down, Trump Gives Democrats A Double Helping Of Their Own Medicine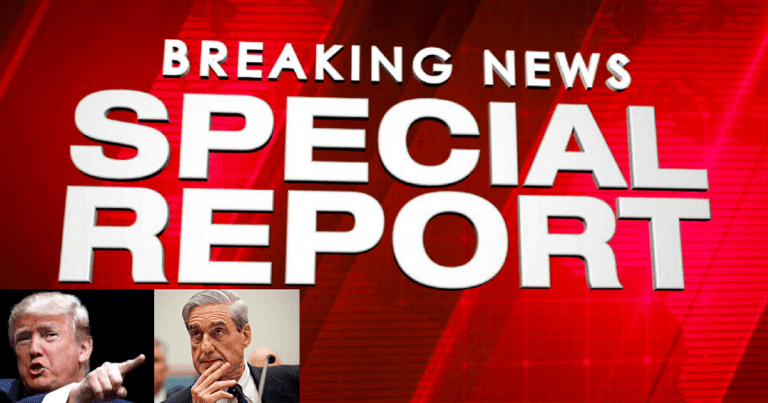 Donald kicks them while they're down – he just made my week!
Democrats and the media (I repeat myself) made a big deal in the days leading up to Mueller's testimony before Congress.
Oh boy, did they expect his testimony about the Russian probe to finally nail Trump to the wall!
After all, Mueller's report gave them nothing to use to impeach Trump. There has never been any evidence to prove Trump colluded with Russia or obstructed justice.
But Mueller's testimony was going to do it! Yep, that's what they claimed.
Oh, how wrong they were.
Robert Mueller came off a dazed and confused man who didn't seem to even know the contents of his own report. Nothing he said gave Democrats what they wanted, what they needed.
And President Trump was on hand to give Democrats a double helping of their own medicine.
From Twitter:
The Democrats lost so BIG today. Their Party is in shambles right now…pic.twitter.com/WDnGSOFzZU

— Donald J. Trump (@realDonaldTrump) July 24, 2019
The Democrats lost so BIG today. Their Party is in shambles right now…
Yep. In the words of Trump, it was a devastating day for the Democrats.
Really, they've been having days, weeks, months of devastation. They were really hoping the Mueller testimony would distract Americans from all their problems.
Namely, how Democrats defend anti-Semites, empower domestic terrorists (Antifa), and refuse to really help the border.
That's just for starters. Democrats are crumbling. They have no plans to help America. Their 2020 candidates can't compete with Trump's economy and they're falling apart at the seams.
The only "ace" up their sleeve was Mueller's testimony. Despite reality, they believed he'd come out swinging with damaging evidence against Trump.
Instead, the whole charade was a big dud. I could have told you that.
Oh wait, I did.
You know President Trump wasn't going to miss this opportunity. He reminded the press of their two-year-old witch hunt. Of the left's constant accusations against him—accusations based on complete fiction.
He is sticking the left to the wall over their 40-million-dollar probe that proved nothing. Over their "hero" Robert Mueller, who didn't even seem to know about his own investigation.
Democrats needed Mueller to prove Trump obstructed justice. He didn't even come close. In fact, Mueller had to correct statements the Democrats were distorting. Mueller went out of his way to steal his victory from the left!
Yep, it was a pretty devastating day for the Democrats.
SHARE if you agree with Trump: Democrats are in deep trouble in 2020!
Source: Twitter