Just Days After Musk Unloads "Twitter Files" – Kevin McCarthy Blitzes 51 Intel Agents with Subpoenas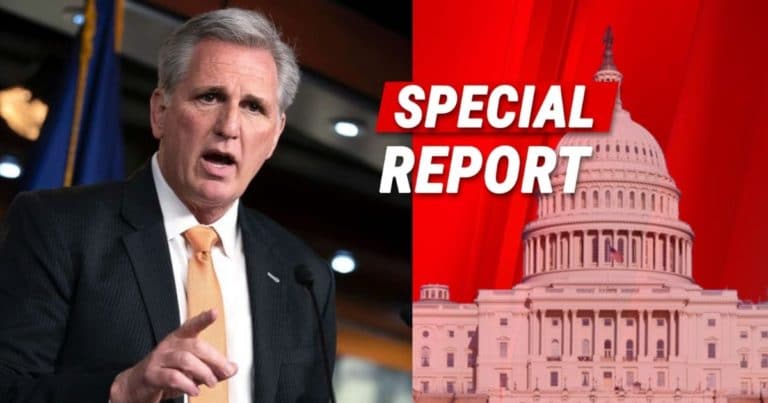 New Twitter CEO Elon Musk has been on a rampage in the past month, releasing the explosive "Twitter Files" and going after multiple former company executives.
Musk has apparently proven that Twitter actively suppressed and silenced conservative opinions, a belief held by numerous Republican leaders and millions of right-wing citizens.
And just days after the latest revelation, the GOP is making a strong legal move in Washington.
Ever since Musk promised to reveal the truth via internal documents, politicians in D.C. have been bracing for impact.
House Republican boss Kevin McCarthy went on FNC's "One Nation," where host Brian Kilmeade asked McCarthy about Musk exposing "the corruption that existed" on Twitter and the denials made by executives.
Kilmeade wanted to know if McCarthy had something to add to this — and as it turns out, the GOP is definitely planning to make some waves.
Here's McCarthy's reply (from Breitbart):
This is egregious what we are finding. They should not have section 230 to start out with, but we also have to go further.

What did Facebook and Google do as well because they became an arm of the Democratic Party and an arm of government.
Many have accused Big Tech of conspiring with Democrats and other high-ranking government officials, and most conservatives say the bias and suppression is still very obvious.
McCarthy then cited the 51 intel agents "that signed a letter that said the Hunter Biden information was all wrong," that it was just "Russia collusion."
The GOP leader reminded us that many of those agents have security clearance, which is problematic. And he added:
We are going to bring them before committee. I'm going to have them have a hearing. Why did they sign it? Why did they lie to the American public? A Clapper, a Brennan?

Why did you use the reputation that America was able to give to you more information, but use it for a political purpose and lie to the American public?
The Hunter Biden laptop story has been thrust back into the spotlight, thanks to the revealing of the Twitter Files.
Republicans on Capitol Hill have been saying for years that Hunter's connection with China, and his father's potential involvement in his son's overseas business dealings, all require investigation.
The mainstream media would continually dismiss this as "conspiracy theory" and it now seems clear that Twitter suppressed that view as well.
Except now, we're finding out that most of the original reporting was accurate, and we had so-called journalists and free-speech platforms shutting down stories they just didn't like.
So at this point, it seems inevitable that legal action must be taken — especially if we really want to protect the First Amendment.
Key Takeaways:
GOP House leader Kevin McCarthy says they will subpoena 51 intel agents involved in the Hunter Biden suppression scandal.
McCarthy demands to know why they kept the story hidden, and why they used it to "lie to the American public."
The Twitter Files allegedly holds evidence that proves Twitter colluded with gov't officials to erase the story.
Source: Breitbart