Hours After Nadler Pushes For Impeachment – Dug-Up Video Shows Him Tearing Down His Own Case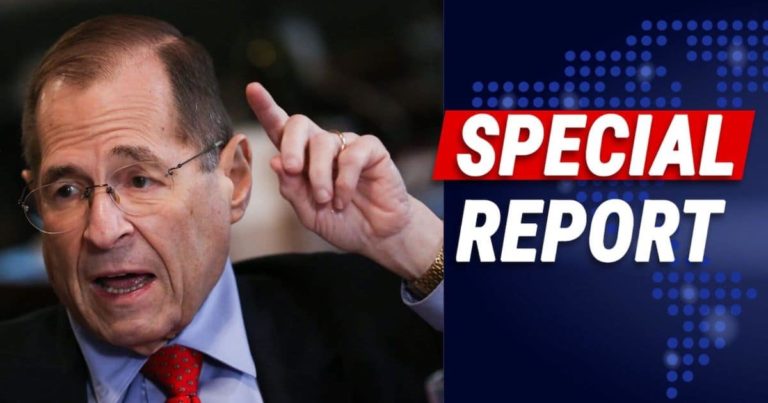 Jerry thought it was buried deep – well here it is!
First, we got the impeachment king, Adam Schiff.
He set himself up for plenty of backlash from the press, and many Americans questioned his evidence and motives.
But now there's a new impeachment head honcho: House Judiciary Committee Chairman Jerry Nadler (D-NY).
Is he different from shifty Schiff? Well, as it turns out … not really.
As usual, this appears to be more about anti-Donald Trump than any illegal action. Why else would Nadler change his tune?
See, back in 1998, Nadler didn't like the idea of impeaching then-President Bill Clinton.
He didn't seem to like the impeachment option at ALL.
From Fox News:
The effect of impeachment is to overturn the popular will of the voters.

We must not overturn an election and remove a president from office except to defend our system of government or constitutional liberties against a dire threat, and we must not do so without an overwhelming consensus of the American people.
That sounds right, doesn't it? How come Nadler has pulled a total 180?
Look, GOP Leader Kevin McCarthy is making the same point, as he posted the unearthed Nadler video on Twitter:
"There must never be a narrowly-voted impeachment or an impeachment substantially supported by one of our major political parties and largely opposed by the other."

"Such an impeachment would lack legitimacy."

Good point, Chairman Nadler. pic.twitter.com/wlrxXb2Aji

— Kevin McCarthy (@GOPLeader) December 4, 2019
So, Nadler is all against impeachment for Clinton but for Trump, he's going to lead the charge.
Yeah, sounds like a double-talking Democrat to me.
This guy once said that impeachment would lead to "a divisiveness and bitterness in our politics for years to come and will call into question the very legitimacy of our political institutions."
I would agree with that, wouldn't you?
And yet, because we're talking about Donald Trump, Nadler has decided that impeachment is just fine.
I think this tells us everything we need to know about this impeachment process. I think it's plain as day:
This isn't about determining if the President committed a crime … this looks like a coup to get Democrats back into power.
SHARE if you agree that Nadler's impeachment sham should be shut down!