Democrats Just Fell Apart On Senate Floor – Video Catches Nadler Stealing Schiff's Podium, And Adam Could Only Say "Jerry, Jerry, Jerry"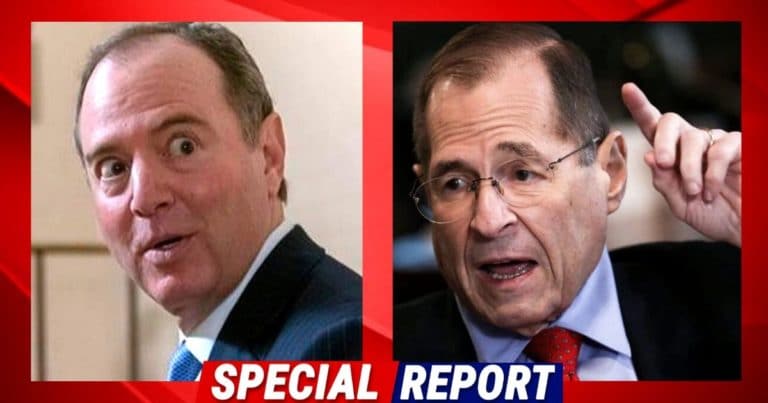 After so many months of pushing impeachment, Democrats seem to be falling apart at the seams.
The battle to remove Trump from office isn't going as they hoped. Not only will Trump be acquitted (probably soon), but the Senate might not even vote for new witnesses.
Now, it seems that the House managers can't even work together.
Chief Justice Roberts asked Democrats to give a final word in response to Trump's legal team.
Naturally, you'd expect the House manager's head, Adam Schiff, to get the podium. Instead, Nadler jumps from his chair and steals the microphone.
What happens next is comedy gold.
From Fox News:
Rep. Jerry Nadler got up to get the last word in for the night. Rep. Adam Schiff, the lead impeachment manager, got up and tried to get Nadler's attention: "Jerry. Jerry. Jerry." pic.twitter.com/M5K2OBXoK1

— Julio Rosas (@Julio_Rosas11) January 31, 2020
Wrapping up the second day of questioning by the Senate jurors, Chief Justice John Roberts called on the House managers to answer the final question of the evening…

Nadler is then seen jumping out of his chair and rushing to the center podium, quickly getting the attention of Schiff, who also leaped from his seat.

"Jerry. Jerry. Jerry," Schiff is heard saying as he took a few steps towards Nadler, but failed to stop him from speaking.
Wow. After Roberts asks the Democrats to answer the last question, Nadler is seen rushing to the podium.
He doesn't seem to be consulting with the rest of the House team. In fact, Schiff gets up and tries to wrangle Nadler.
You can hear him saying, "Jerry, Jerry, Jerry!"
Hmm… something tells me these two aren't getting along.
Earlier during the trial, they were seen talking over each other and trying to grab the spotlight.
Is Nadler peeved that he is second banana to Shifty Schiff? Is Schiff resentful that Nadler appears to be undermining him?
Maybe all the stress of their rushed, incomplete, and partisan House impeachment is getting to them.
At a time like this, shouldn't they be presenting a united front? Looks more like they are just getting on each other's nerves.
SHARE to show everyone how Democrats are falling apart!
Source: Fox News