Days After Nancy Pelosi Defeated by GOP – The Speaker Finally Admits She's Going to Step Down from Leadership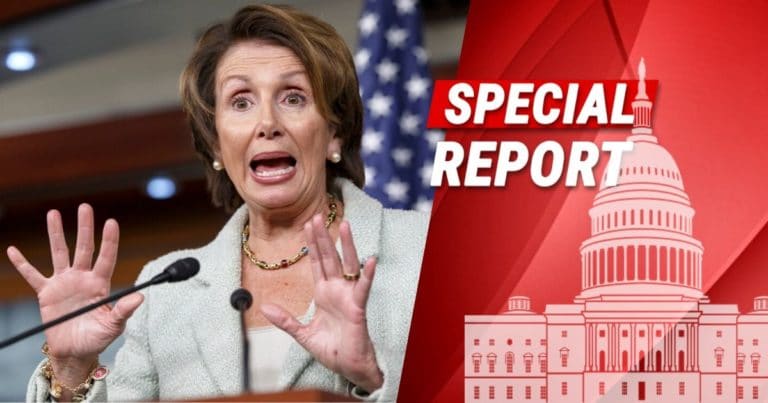 What's Happening:
Despite complaints from some conservative pundits, Republicans were victorious in taking back the House. The Speaker of the House will be a Republican lawmaker, most likely Kevin McCarthy. And Democrats will no longer be able to ram radical bills through the lower chamber of Congress.
But what of old Nance? Some speculated that, without the gavel, she would leave Congress. Joe Biden urged her to stay, despite rumors of taking an ambassador's job. Without power, there might be little reason for her to stick around. This week, though, she revealed her plans.
From AP News:
House Speaker Nancy Pelosi said Thursday that she will not seek a leadership position in the new Congress, a pivotal realignment making way for a new generation of leaders after Democrats lost control of the House to Republicans in the midterm elections.

Pelosi announced in a spirited speech on the House floor that she will step aside after leading Democrats for nearly 20 years and in the aftermath of the brutal attack on her husband, Paul, last month in their San Francisco home.
Ding, dong, the witch is dead! Pelosi announced she will not seek a leadership role among Democrats in the House, after losing her gavel to Republicans. Her reasons seem to stem from the recent attack on her husband, but it seems obvious when you think about it.
Pelosi monopolized the House for nearly 20 years. She soaked up as much power and privilege as she could, to enrich her family and special interest groups. But now, it is very unlikely she will ever reach that kind of power again.
Even if Democrats retake the House in the future (years from now) she won't be in line for Speaker. She's done enough damage to her district back home and the party at this point. Why not step aside and let someone else ruin the party now?
What's really odd is that she isn't simply retiring from Congress. Why does she still want to stick around, without the same power and respect she had before? Now, she'll just have one vote the same as any representative. It's like a former president being elected to a lower office. What's the point?
But I guess Pelosi still has some more meddling to do. By not retiring, she is depriving her San Francisco seat of going to a far-left radical. Maybe she is trying to protect her party from going off the deep end once and for all.
Regardless of the reason, this might be the very last time we'll have to hear from here. And that's worth celebrating.
Key Takeaways:
Nancy Pelosi announced she won't be seeking leadership among House Democrats.
Pelosi had monopolized party leadership for over 20 years, serving in Congress for 35 years.
This comes as Republicans take the House back from Democrats and the Speakership.
Source: AP News