Nancy Pelosi Drops the Hammer on John Fetterman – Former Speaker Cries 'Sexism' Over Democrat Calls for Feinstein's Resignation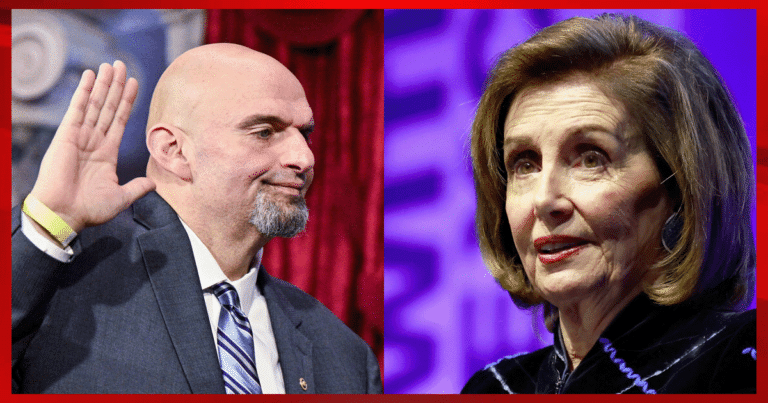 What's Happening:
Senate Democrats aren't having a great 2023. For weeks now, they've lost their majority due to illness and other absences. Several notable Senate Democrats have been out of commission because of serious health issues. Two of them, Diane Feinstein and John Fetterman, had extended stays at the hospital.
But guess which one liberals wanted to kick out of the Senate?
Feinstein remains out, thanks to a bad case of shingles. The 89-year-old woman could be out for much longer, leaving Democrats in the lurch. Leftists have turned on the woman, calling for her to resign. House member Nancy Pelosi is none too pleased. And she's firing shots at her own party.
From Fox News:
Former House Speaker Nancy Pelosi, D-Calif., suggested that calls for longtime Sen. Dianne Feinstein, D-Calif., to resign were sexist, noting that she has "never seen them go after a man who was sick in the Senate in that way," in an apparent reference to Sen. John Fetterman, D-Pa., who has been absent for a couple of months due to clinical depression.
Well, for once, it seems Pelosi has a point. Of course, she is attacking her own party since it's been Democrats calling for Feinstein to resign. Pelosi complained that people "never" demand a sick man to step down.
She might deny it, but her words hit home with John Fetterman, who is clearly unfit for office. Not only has he not recovered from a severe stroke, but he was MIA for weeks due to "depression." The man can't even talk right and needs a tablet to translate human speech.
But it's Feinstein that needs to resign? What the heck is going on with the Democratic Party? Apparently, since John Fetterman's "better" and out of the hospital, he doesn't need to resign? I guess they can just tie a string to his sleeve to get him to raise his hand when he needs to vote.
Diane Feinstein isn't running for re-election. She's already got one foot out of the Senate. But that's not good enough for leftists who are desperate to hold onto enough votes to stonewall Republicans and ram through Biden's socialist nominees.
Pelosi isn't wrong, this one time. Nobody said Fetterman should resign, even though he's essentially a giant potato. Democrats claim to be champions for women. But they are ganging up on an old lady suffering one of the most painful diseases imaginable.
Geez, say what you will about Trump, Democrats, but he'd never do that! Nor do you see Republicans demanding their women to resign just because they are sick.
Key Takeaways:
Nancy Pelosi turned on her party after Democrats demanded Sen. Feinstein resign.
The 89-year-old senator is in the hospital being treated for shingles.
Pelosi claimed that Democrats "never" demand a sick man to resign, a possible slight at John Fetterman.
Source: Fox News