After Pelosi Slips Up On Impeachment – President Trump Orders Nancy To Go Back To Her Own District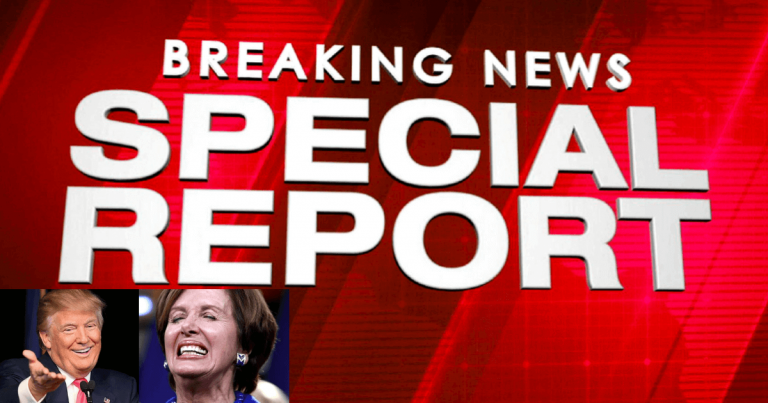 Nancy's mask slipped off – and Donald gave her a direct order!
Nancy Pelosi announced her party will be drafting Articles of Impeachment. It's all because she believes Trump broke the law, right?
That's what she claims. But soon after her announcement, her mask slipped.
She lost her cool when a reporter simply asked her a question. She even shut down CNN when they wanted to ask her about this serious development.
It doesn't seem like she's really interested in "protecting our democracy." It seems much more likely that Pelosi—and the rest of the Democrats—are trying to undo the 2016 Election.
Not to mention steal the 2020 Election.
President Trump had quite the response to her rash move.
From Twitter: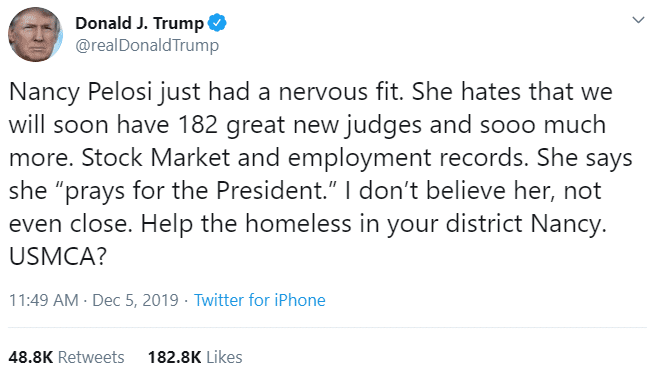 Nancy Pelosi just had a nervous fit. She hates that we will soon have 182 great new judges and sooo much more. Stock Market and employment records. She says she "prays for the President." I don't believe her, not even close. Help the homeless in your district Nancy. USMCA?
Boom! As usual, Trump trounced Pelosi with a cutting appraisal of her mental state.
He said she had a nervous fit. That's a pretty fitting way of describing how she acted on camera yesterday.
He reminds American how Pelosi hates the fact that Trump appointed nearly 182 new federal judges.
That blows past Obama's record.
He touted the success of the stock market and employment since he entered office. Trump scored major victories for this country, all without support from the Democrats.
Trump questioned Pelosi when she claimed she "prays" for him. Really? I'm no priest, but the purpose of prayer is to help someone, right?
Everything Pelosi does proves she's strongly opposed to the president. She hasn't tried to help him or his America first agenda once.
She and her entire party voted against tax cuts in 2017, remember? Tax cuts that directly helped our economy.
Trump ended his tweet by calling on Pelosi to go back to San Francisco and deal with the serious problems they face.
It's no secret California is in dire straits. But their "leaders" do nothing but push impeachment.
Trump mentioned the USMCA—a trade deal the Pelosi said she'd back. But where is it?
Pelosi has a lot to answer for. She's done nothing this year as Speaker, except back a widely unpopular impeachment.
SHARE to tell everyone Trump is beating Nancy at her own game!
Source: Twitter