Blue City Mayor Pulls Outrageous 'Indian' Stunt – Look Who She Just Fired, And Hired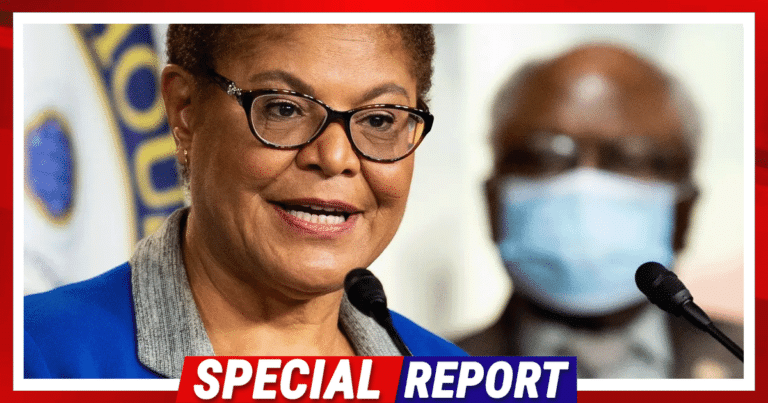 What's Happening:
I think it's safe to say that Democrats prioritize one group over every other. The left pretends to care about all "marginalized" or "underrepresented" groups. But when push comes to shove, they will step over their grandmas to make sure they are propping up their favorite "minorities."
In the city of Los Angeles, the mayor took extraordinary steps to show her support for this group. A woman named Cynthia Ruiz, a member of the Cherokee Nation has served for just a year as the commissioner of the Department of Water and Power. But suddenly, she was removed for a white male. All because he is reportedly "queer." Now, the tribal community is outraged.
From Breitbart:
Native American leaders are furious with Los Angeles Mayor Karen Bass after she abruptly replaced the first-ever Native American commissioner of the Department of Water and Power (DWP) with a "queer" white male…

"We are in shock that Cynthia, the first Native American to serve on that commission, was replaced by a white man when she was not even a full year into her four-year term," said Teri Red Owl, executive director of the Owens Valley Water Commission.
Yikes. The mayor of Los Angeles, a woman herself, fired Cynthia Ruiz, the first-ever tribal person to serve in the Department of Water and Power. She wasn't even a full year into her four-year term when Mayor Bass replaced her with a white man who is reportedly "a leading queer voice" for "environmental justice."
Just recently, Ruiz was bragging about her post, sharing a photo of herself with Mayor Bass. She claimed they were "women change makers." Yet the Democrat mayor didn't even think twice about jettisoning Ruiz to show her support for a "queer" white man.
This is why identity politics don't work. As soon as you think you have it made in the shade, a more "important" group will take your crown. For years, Democrats prioritized women and people of color.
But these days, it is abundantly clear they'd rather pander to gays and transgenders. The first tribal woman to serve on this board? Forget that! There are LGBTs to impress!
Not that any of us are all that surprised. This is just more evidence of the radical left devouring itself. They have put identity over qualifications and merit. And this is why Democrats, from LA to D.C., always fail.
Key Takeaways:
The mayor of LA fired a tribal woman from the water board, replacing her with a white male.
The man is a "leading queer voice" for "environmental justice."
Tribal leaders have expressed outrage over the removal of Ruiz, who hadn't served one full year.
Source: Breitbart