Woke Netflix Hammered by Nightmare Report – In Decade Wipeout, They Just Experienced a Crushing Loss in Market Value in 2022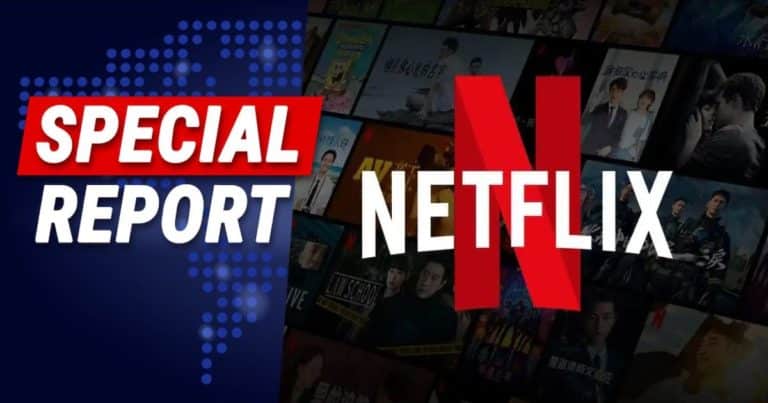 2022 was a rough year for the markets, and for the entertainment industry. Disney's well-documented fall from grace included a stock loss of 42 percent and the replacing of its CEO.
Much of Hollywood suffered according to year-end reports, too. And one of the biggest entertainment providers in the world had a historically bad year.
Netflix fell even harder than Disney in the stock market, and the report only gets worse from there.
Disney's unprecedented stock crash in 2022 certainly stole most of the headlines, but many investors were even more concerned about Netflix's sudden decline.
While the stock market in general struggled badly – the Nasdaq lost over 33%, for example – some of the largest and seemingly invincible corporations felt the economic strain worse than anticipated.
On top of the economy teetering on a recession, many people kept saying "go woke, go broke."
That's a possible reason why so many consumers are running away from Disney and Netflix now. And the results are difficult to ignore (from Breitbart):
Netflix has closed out its worst year in more than a decade, with its stock plunging more than 50 percent and wiping out a staggering $136 billion in market value.

For 2022, Netflix shares dropped 50.6 percent, the most the stock has declined on an annual basis since 2011.

For the first time, the once-invincible company lost subscribers for two consecutive quarters, ushering in a period of painful belt-tightening that has included several hundred layoffs.
If one glances at the recent Netflix Original movies, and those that are most often recommended (especially over the holidays), many will agree that the "woke" agenda is front-and-center.
It's so prominent that some Americans have simply abandoned the platform entirely. That's a reason why for the first time ever, Netflix lost subscribers for two quarters in a row.
It got so bad that the company had to break its promise to never have commercials — they launched an ad-supported tier in order to combat the falling subscriber numbers.
Unfortunately, even that tactic doesn't appear to be working.
Breitbart News reports that this new tier accounted for only 9% of new sign-ups in its first month, and Netflix actually had to return money to advertisers after failing to meet projected numbers.
This is just part of the stunning drop in overall entertainment numbers in 2022.
The industry lost over a half-trillion dollars last year and companies are scrambling to figure out a new way forward. Many bosses don't want to point the finger at woke content, but it could be having a drastic impact.
And if they continue down the path to appease the woke mob, the most powerful corporations in the world could have a very, very bad 2023.
Key Takeaways:
Netflix stock plummeted over 50% in 2022, losing over $136B in market value.
For the first time in the company's history, they lost subscribers for 2 consecutive quarters.
Many believe this is a direct result of Netflix's pushing of a far-left agenda.
Source: Breitbart