New Clinton Speaking Tour Takes Nosedive – Empty Arenas And Coughing Fits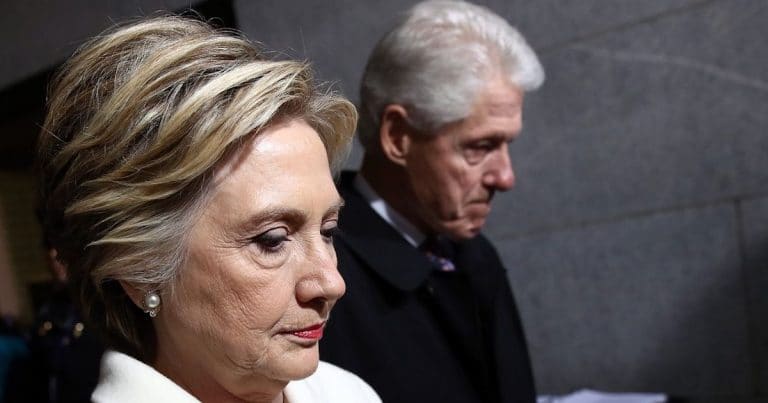 I know what you're thinking, "Ugh, why do we still have to talk about the Clintons?"
I feel your pain, friends. But, like a bad rash, Bill and Hillary keep popping up on the backside of America.
These con artists can't stop trying to bilk good-natured Americans out of cash. With her political aspirations dead and buried, Hillary continues to thrust herself into the spotlight.
She can't admit she lost in 2016. Like a jilted lover, she continues to make herself known.
The good news is, few people are left in this country who will pay to see her. Even when both of them are at an event, they can't muster up a crowd!
From Breitbart:
Bill and Hillary Clinton's 13-city speaking tour opened in Toronto to a near-empty arena and a coughing fit.

The Daily Mail reports that this latest money grab from the Clintons managed to attract only 3,300 in a stadium that holds 19,800 — which works out to 83 percent empty. This figure is made even more embarrassing by the fact that as the date of the event neared, the venue was not able to give tickets away at just $6.55 each. Ticket prices started between $200 and $53 Canadian.

On top of that, in the middle of the event, Hillary had one of her famous coughing fits, which was caught on video.
This is pretty telling if you ask me.
Do you remember the crowds who gathered to see Donald Trump during the midterms? He wasn't even running for president—yet people waited in line for days to see him.
Venues were packed to the rafters, with hundreds (even thousands) in overflow seating.
People hung on Trump's every word. They cheered him on as he spoke for hours. The president can energize people like no other.
Meanwhile, failed candidate Crooked Hillary can't fill a single room. She continues to baffle medical science with her mysterious "coughing fits."
Yeah, that woman is well!
We all need to thank God this woman never became president. Imagine what it would be like if she were doing the State of the Union address. We'd have to wait every five minutes for her to stop coughing!
This is a pretty clear picture of the difference between the state of the Republicans and the Democrats.
SHARE if you want Hillary to go away forever!
Source: Breitbart