New Speaker Sends Biden a Brutal Message – Johnson Reveals the 1 Huge Problem He Has with Joe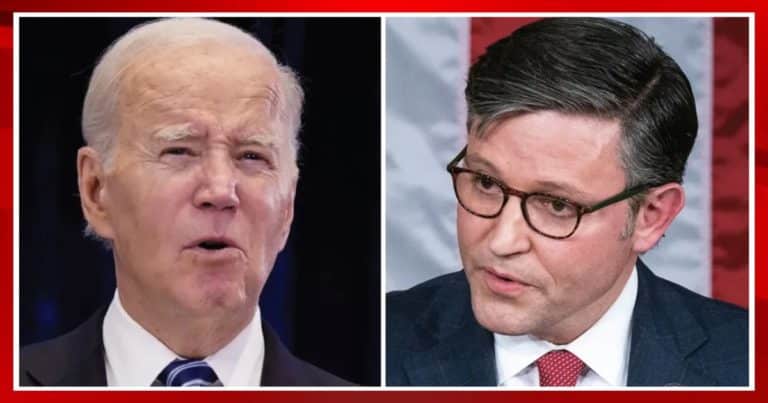 What's Happening:
After weeks of infighting about a new leader in the U.S. House, Republicans united earlier this week and elected Mike Johnson (R-LA) as House Speaker. Johnson is quickly adapting to his new role and tackling some of the biggest issues facing the country.
Likely the most problematic concern for all Americans is the Joe Biden presidency. His support has fallen to new lows even among fellow Democrats and people are seeking a change in direction. Johnson is gaining support among GOP members and looking to expand the party's influence.
The new speaker of the House had a powerful message for Biden during a media interview that went straight to the heart of the problem. Biden's followers won't like the truth that Johnson delivered regarding his first meeting with the president.
From the Daily Caller:
"You respect the office," Johnson said. "But he and I agree on almost no policy. I think it's been a failed presidency and all the problems… were caused by policy choices, and that's the problem I have with him."
Johnson, a man of faith with strong biblical principles, was tactful but blunt of his assessment of Biden and where he plans to take the House moving forward. Johnson said he can't get past the problems caused by Biden and can' think of anything where the president has done a good job.
The new speaker, like many Americans, is concerned about the alleged "cognitive decline" of Biden that people have noticed. Biden has repeatedly committed gaffes in public of stumbling, mumbling, stating wrong facts, and forgetting what he was talking about in mid-sentence.
Johnson referenced these concerns that have been on display in public and said there is a "reality" to Biden's issues and American cannot afford to "project weakness."
"I mean it's not a personal insult to him," Johnson said. "It's just reality and this is what's concerning to us is that we cannot project weakness of any kind on the world stage right now. This is a dangerous time."
Johnson went on to discuss other topics of concern to the American people such as problems on the southern border, economic turmoil across the country, and his plans for guiding the House effectively with many challenges ahead.
The new speaker appears to be a level-headed individual with strong support throughout the GOP membership. This will be important as Congress deals with impending budget issues and two wars involving U.S. allies.
Key Takeaways:
New Republican speaker of the House calls out Biden administration failures.
Speaker Johnson says there are "almost no policy" agreements with Biden.
Biden's failures come at a time when the U.S. can't "project weakness."
Source: Daily Caller