Just Days After Biden's Border Photo-Op – Top Blue City Mayor Floors Americans with About-Face Demand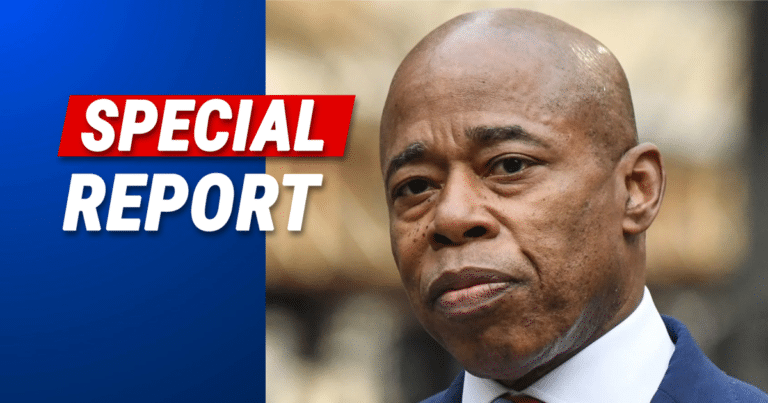 What's Happening:
In most liberal parts of the country, the border crisis seems like a distant problem. They are thousands of miles away from the border. Why should they care that El Paso or Laredo are being overrun by illegals? That was the sentiment, that is, until numerous governors started busing migrants up North.
New York's Eric Adams was outraged. Gov. Abbott of Texas invited the liberal mayor to actually see the border. But Adams was silent, until Colorado started sending aliens to NYC too. Over 40,000 border jumpers have flooded New York over the last few months. So now, the mayor of the most liberal city in America has done the unthinkable.
From Twitter:
WATCH: New York City Mayor Eric Adams inspects border wall in Texas "This is a national crisis and we need a national solution," Adams said.
WATCH: New York City Mayor Eric Adams inspects border wall in Texas

"This is a national crisis and we need a national solution," Adams said.

— Breaking911 (@Breaking911) January 16, 2023
New York Mayor Eric Adams stunned the liberal establishment by going down to see the border crisis himself. This is after more than 40,000 illegals were sent to New York from Texas, Arizona, Florida, and Colorado. Adams met with the mayor of El Paso, Democrat Oscar Leeser. He also visited the border wall and spoke with Border Patrol agents.
During the trip, the mayor called the border crisis a "national crisis" and demanded a "national solution." It does not seem Adams is getting specific about his solution, outside of more federal money getting poured into cities like NYC. But for this mayor to visit the border is ground-breaking.
Just a short time before, Joe Biden made a big deal about his border visit. But Biden never looked at the border himself, deliberately avoiding looking at the border wall. He went to a detention center in El Paso, after the city cleaned up the thousands of aliens covering their streets. Most people have dismissed Biden's trip as a meaningless photo op–since no new action has come from it.
But Adams defied the left by seeing the border himself. His presence will do more for the border crisis than Biden's staged event. This could mark a turning point in the situation. If Adams is true to his word, he can motivate Democrats in Washington to action. A bipartisan solution to the crisis can be crafted, requiring Biden's support.
Even if open border-loving Biden threatens to veto, why can't there be a veto-proof majority? If one of the most liberal Democrats is calling for action, anything's possible.
Key Takeaways:
NYC Mayor Eric Adams visited the border in El Paso, TX.
The Democrat is calling for a "national solution" to the border crisis.
This comes after several governors sent illegals to New York City.
Source: Twitter