NFL Superstar Herschel Walker Sets Biden Straight – Claims Joe Has Not Tried To Change Anything For Black Lives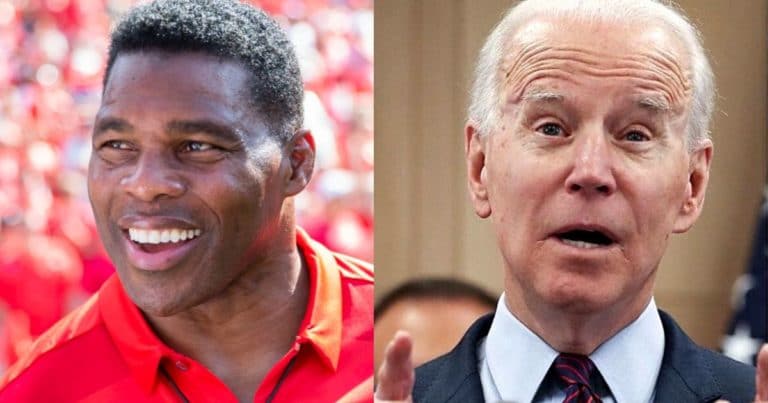 After offending many black Americans with his "you ain't black" comment, Joe Biden is trying to repair his image.
He and his campaign are claiming the former vice president is a champion for minority Americans.
Many critics are questioning Biden's claim. They have pointed to his many years in D.C.—as first a senator then vice president—and are accusing him of doing very little to help black Americans.
In fact, NFL superstar Herschel Walker called out Joe, demanding some answers:
Someone inform @JoeBiden not to compare the death of Dr. King and George Floyd. He has been in office a very long time and not once has he tried to change anything for black lives. Look at his voting records!
Why is this NFL superstar's tweet so important?
Walker points to Joe Biden's voting record in the Senate, saying he has not "tried to change anything for black lives."
In fact, Joe Biden was a strong supporter of the infamous Crime Bill of the 90s, which put millions of young black men in jail.
In addition to his, Biden has a long history of honoring segregationists in Congress.
Even Kamala Harris (rumored to be Biden's future VP pick) attacked Biden on his voting record on busing and other matters.
On top of that, Donald Trump chimed in with his own two cents:
I've done more in less than 4 years than Biden's done in more than 40 years, including for Black America. Biden has been a part of every failed decision for decades. Bad Trade Deals, Endless Wars, you name it, he has shown a complete lack of leadership. He's weak & shot!!!
Mainstream media polls suggest Biden is leading Trump by a large margin. Yet it does not seem that anyone outside core Democrats is championing the former vice president.
More and more details emerge on his past regarding black Americans. And many people don't like what they're learning.
Key Takeaways:
Joe Biden's campaign is claiming he's the best candidate for black Americans.
Many, including NFL great Herschel Walker, is calling out Biden's voting record.
Critics are pointing to Biden's history; Trump says he's done more for black Americans than Biden has in 40 years.