NFL Leader Pulls Plug On Kaepernick – He Admits It Looks Like All 32 Teams Have 'Moved On'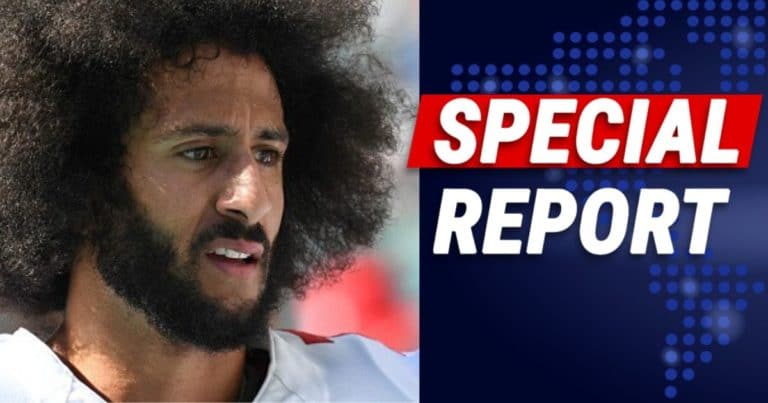 His biggest failure yet – but the media is silent!
You may have forgotten about Colin Kaepernick. If so, good for you!
This former NFL player nearly destroyed the sport when he started the kneeling fiasco.
This movement outraged patriotic Americans as they were forced to watch rich, entitled athletes insult our flag.
What has been Kaepernicks' reward? Well, he got a nice fat contract with Nike. But in exchange, he was cut from his team.
That's not good. Because Nike's not in the business of paying former players to endorse their products.
They need hot young talent that fans adore. So, Kaepernick got the NFL to invite him to a workout event, to see if he still had what it takes.
But the wannabe controversial Kaepernick even spoiled that chance.
So, the NFL commissioner gave him some bad news.
From Fox News:
Any chance free agent quarterback Colin Kaepernick had of returning to the NFL has likely passed, according to comments Commissioner Roger Goodell made Wednesday…

"We've moved on," the commissioner added, suggesting that the league was finished considering Kaepernick for future workouts or team roster openings.
NFL head Roger Goodell announced to the world that the league has "moved on" from hiring Kaepernick.
He asserted that none of the 32 teams were interested in Kaepernick's "skills." Can't say I blame them.
Now, if you think Goodell was being unreasonable, keep this in mind. Goodell and the league were willing to arrange a workout for Kaepernick. That would have given him a chance to play and show the coaches what he had.
At the last minute, Colin relocated to another facility, rather than the one he and the league agreed upon.
How did he expect all these men, who had planned this for weeks, to sudden change everything? Kaepernick even made a show for the cameras, making it seem the league abandoned him.
Sorry, we're not buying it, kid.
You know what I think? I think Kaepernick knows he's not the athlete he used to be. He can't compete with young, up-and-coming players.
So he pulled this stunt—as he did with the kneeling—to hide that fact from Goodell and the coaches.
Goodell saw through it and shut Colin down. "We've moved on." Boom. Mic drop.
Looks like Kaepernick's days of screwing with football—and America—are over.
SHARE to make sure everyone knows Kaepernick is done for!
Source: Fox News