NFL Star Herschel Walker Demands CNN Host Fired Over Treatment Of President Trump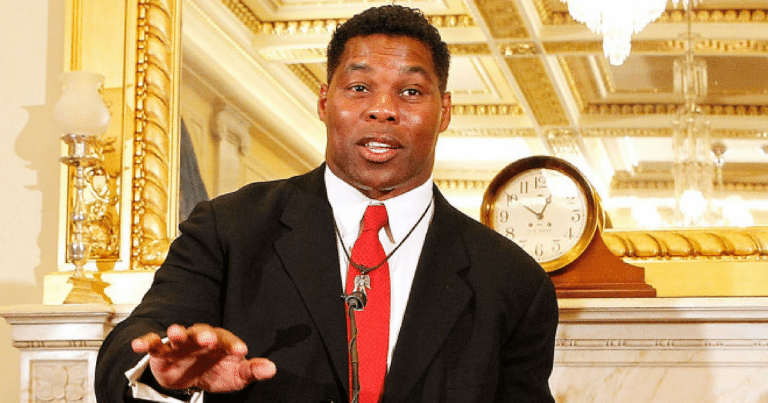 History was made, once again, when Kanye West appeared in the Oval Office.
Donald Trump let the celebrated rap superstar share his passionate views over what this country needs.
His statements—and support for the president—once again sent shock waves across the country.
The left-wing media, terrified of the impact Kanye will have among black voters, proceed to attack the artist.
The worst came from scum bag network, CNN, whose host Don Lemon spewed racist attacks against the black rapper.
Now an NFL legend is demanding this hack of a host is sent walking.
From Breitbart:
NFL great Herschel Walker is calling for CNN to take host Don Lemon 'off the air' for the racist names that Lemon and his guests called rapper Kanye West, after his visit with President Donald Trump at the White House last week.
Walker's criticism stems from a broadcast of Lemon's CNN "news" show where he sat by laughing as commentators Bakari Sellers and Tara Setmayer attacked Kanye West over his support for President Trump. During the segment Sellers angrily insisted that "Kanye West is what happens when Negroes don't read," and called him stupid while Setmayer called the singer a "token negro." Throughout, Lemon sat idly by giggling like a school girl and egging his unruly guests on.
I don't care who you are: what Don Lemon said is beyond deplorable.
But don't be shocked. That is exactly how Democrats treat black people who support the president.
Democrats have revealed their true colors throughout Kanye's outspoken support of Trump.
Liberals in government, Hollywood, and the media have slandered him. With names no decent American would ever use.
That is what liberals do to black people who refuse to support their toxic views.
Herschel Walker is not alone in demanding Lemon be held accountable for what he said. Imagine if it was a Fox News host saying the same things about a black liberal?
He'd be fired so fast, his head would spin!
But because this is a CNN anchor, it's supposed to be okay?
It's clear that CNN and the liberal media have crossed a line. They don't want any black Americans supporting Trump or the GOP.
They use whatever racist language they can to discourage it.
Do you think Don Lemon should be fired over his statements? Then you better SHARE this article. Let's tell CNN we won't accept that kind of behavior. From anyone.
Source: Breitbart