NFL Star Herschel Walker Scores Political Touchdown – His Georgia Senate Run Has Raised Over $3 Million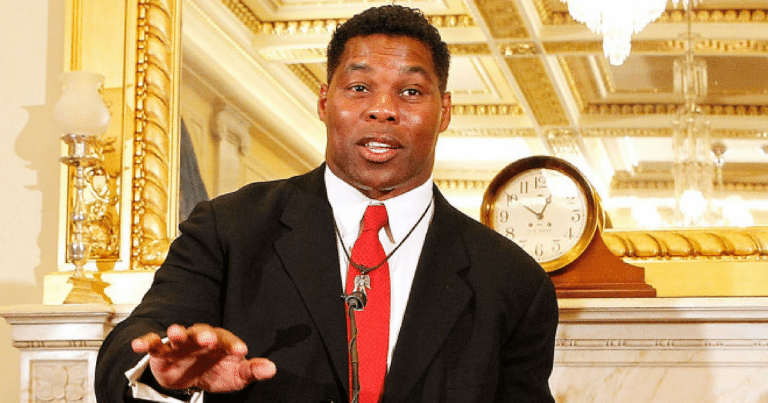 What's Happening:
While the Democrats drag themselves down with bad ideas and in-fighting, Republicans seem to be surging. They are recruiting fresh new leaders to be the face of the party. And some familiar names are making waves.
We are seeing Trump-backed leaders gaining steam in the upcoming midterms. People who are endorsed by 45 see a surge of support from eager patriots. And one candidate, former NFL star and Trump ally, just busted his race wide open.
From Fox News:
Republican Senate candidate Herschel Walker has sprinted out of the blocks when it comes to fundraising for his Senate campaign to try and unseat Democratic Sen. Raphael Warnock of Georgia in the 2022 midterm elections.

The former professional and college football star running back, who won a Heisman Trophy and helped propel the University of Georgia to a national championship, announced Monday that his campaign pulled in $3.7 million — or about $100,000 per day — from his late August launch through the close of September, which marked the end of the third quarter of fundraising.
Trump ally Herschel Walker, a former college football and NFL star announced a major fundraising haul over the third quarter of 2022. He brought in $3.7 million dollars between August and September.
That's got to be a record, no matter how you slice it. He only just launched his campaign at the end of August and he's already got over $3 million in his war chest.
Walker is battling to take the Senate seat of radical progressive Ralph Warnock, who won a special election at the start of the year. The liberal's reputation is marked by controversy and scandal, so Herschel already has a huge advantage.
The former football star and conservative is well-known for his support of Donald Trump. And the 45th president proudly endorsed his candidacy for Senate. The race could end up being a hot one, as Democrats will work overtime to keep the seat they just flipped.
There will be a GOP primary before the general election, but considering Walker's amazing haul, I can't see any other candidate topping him. He could enter the 2022 election on fire, blasting any Democrat expectations.
Key Takeaways:
GOP candidate Herschel Walker raised over $3 million between August and September.
The Trump-backed Republican will be running for a Georgia Senate seat.
Walker is a former NFL star and outspoken support of Donald Trump.
Source: Fox News