Moments After Democrats Admit There's No Iowa Winner – Trump Drops His 2020 Presidential Gavel
To say it was a bad week for Democrats is a massive understatement. Just the Iowa caucuses alone are a huge embarrassment to the party.
They are so eager to take back the White House, but they can't even conduct a simple primary vote. Do you want these clowns running everything aspect of our lives?
The AP refused to call a winner, even after all the precincts reported, because there is so much confusion. The DNC leader Tom Perez is even demanding they start over and recanvass—but the Iowa caucus chairman has refused!
The president, sure enough, was on hand to point out all their many mistakes.
From Twitter: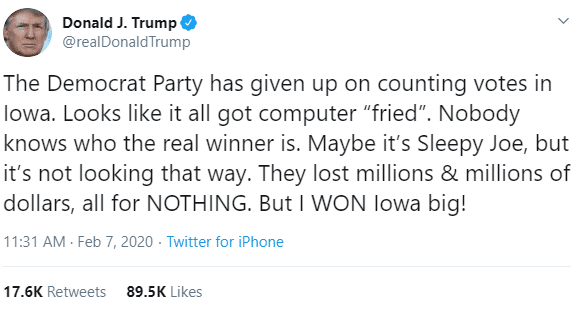 The Democrat Party has given up on counting votes in Iowa. Looks like it all got computer "fried". Nobody knows who the real winner is. Maybe it's Sleepy Joe, but it's not looking that way. They lost millions & millions of dollars, all for NOTHING. But I WON Iowa big!
Donald, you're right – it really is a big mess! But he wasn't done there: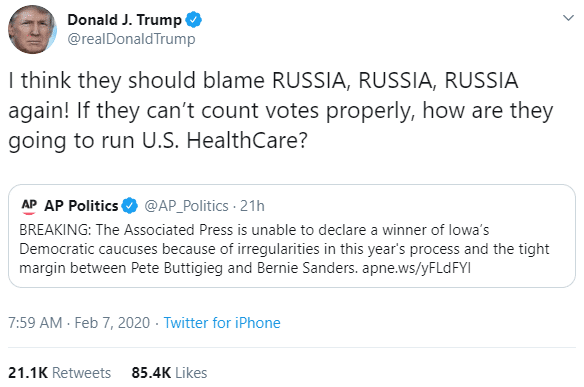 I think they should blame RUSSIA, RUSSIA, RUSSIA again! If they can't count votes properly, how are they going to run U.S. HealthCare?
Ouch. Do you Dems want some burn cream? Perhaps y'all should buy it in bulk! Trump slammed the Democrats over their mess in Iowa.
He said their computers got "fried," citing the disaster that was their new voting app. Trump even said nobody really knows who the real winner is, referring to the AP report.
He then reminded the Democrats how he just won big in the Republican Iowa primaries.
The president didn't let up one bit. He then suggested the Democrats should blame Russia again, for the failure. Why not? They tried to use that excuse after 2016, why not now?
Naturally, the president pointed out the obvious: that if Democrats can't even count votes, how can they run our health care?
Our current system isn't perfect, but I'd much rather trust professional health workers to manage my care than Democrats in Washington!
Iowa has been the first primary state for over 50 years. They never seemed to have a problem before. This latest mess is proof that Democrats are getting worse at their job—not better.
Democrats have tried to blame everyone for this caucus nightmare, even Trump supporters. Funny how they never seem to accept their own mistakes.
SHARE if you think Trump is going to win a landslide over these Democrats!