Devin Nunes Finds Impeachment Loophole – Breaks Schiff's Iron Grip On Witness List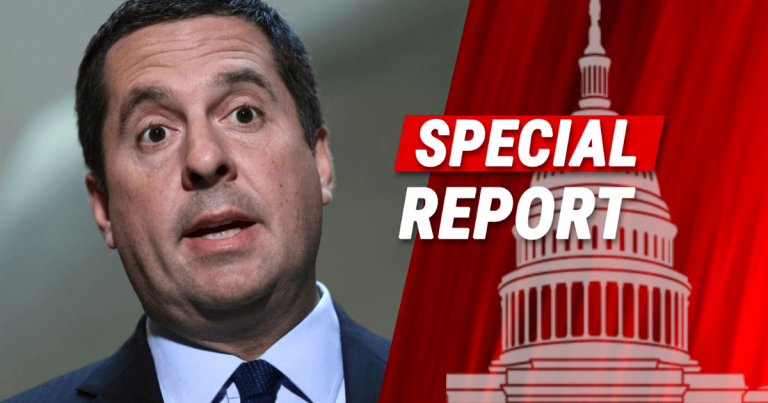 Adam thought he wouldn't find it – here comes Nunes!
Adam Schiff's impeachment train may have succeeded if it weren't for no-nonsense Republicans like Devin Nunes and Jim Jordan.
These guys have fought Schiff tooth and nail to uphold our standards of truth and justice. But Schiff denied them a fair inquiry, refusing to them let call their own witnesses.
And they wonder why conservatives have called the impeachment a sham.
Never fear, even as Democrats are trying to wrap up this inquiry, Nunes has found a loophole.
Thanks to his eager eye, he found a clause in the rulebook that blows this case wide open.
From Western Journal:
Rep. Devin Nunes of California and other Republicans may get to call their witnesses in the House impeachment inquiry, after all, thanks to a clause cited in a letter signed by nine GOP representatives…

"Although Speaker [Nancy] Pelosi promised that Democrats would 'treat the President with fairness,'" Nunes wrote, "you have repeatedly prevented Republicans from fully and fairly examining issues central to the Democrat's 'impeachment inquiry.'

"Therefore, pursuant to House Rule XI, Clause 2(j)(1), we, the undersigned Republican Members of the Permanent Select Committee on Intelligence, exercise our right to convene a hearing with witnesses selected by the Minority to testify in the Democrats' 'impeachment inquiry.'"
Republicans have banded together to call out what they called Pelosi and Schiff's unfairness toward the president.
They are pointing to a rule that gives minority members of the committee the right to call witnesses for one day during a hearing.
Schiff, perhaps drunk with power, didn't let Republicans bring witnesses forward during his public hearings.
He even interrupted Republicans when they were questioning the witnesses that were there!
You know, you can't call this thing a fair and bipartisan effort, when you don't even let Republicans talk.
But Nunes found a rule that should give Republicans the chance to question the people they have wanted a crack at.
They've talked about getting to question the whistleblower, Hunter Biden, even Adam Schiff himself.
Hey, if Democrats want to completely upturn our country by impeaching the president, the least they could do is let Republicans question a few people.
Schiff tried to do everything he could to stop it. But fair's far, after all. And Republicans in the Hosue might finally get to do their job.
SHARE if you want Republicans' witnesses to take the stand!
Source: Western Journal