Nunes Drops His Impeachment Hammer – Claims Schiff's Star Witness Wilted Under Cross-Examination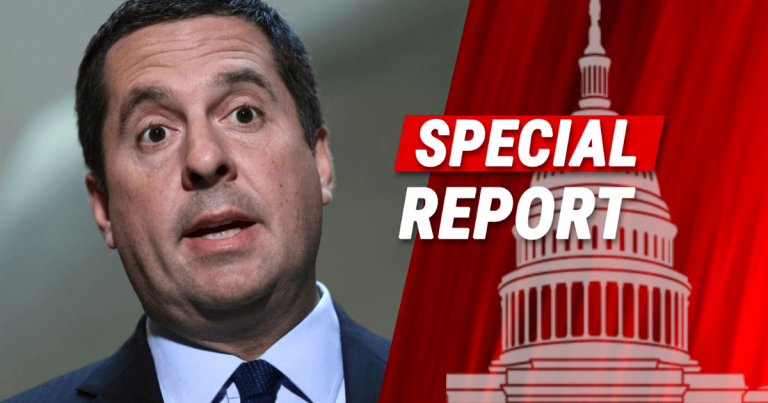 Schiff thought his closet was shut tight – Nunes just threw it open!
Once again, Democrats held closed-door meetings with "witnesses" related to Trump's impeach inquiry.
As usual, Schiff refuses to reveal what is going on. Only select details are being leaked. Of course, only leaks that paint Trump as badly as possible.
The latest witness was grilled for hours, but only his partisan opening statement was released.
But Rep. Nunes came out with a firey response.
From The Federalist Papers:
Republicans are fighting back after Diplomat William Taylor gave nine hours of testimony to the House that painted a picture of President Donald trump engaging in a quid pro quo…

NUNES: "The truth is, in 2 minutes John Ratcliffe destroyed this witness. There is no quid pro quo. In addition, it continues to be alarming to me, the lack of the understanding among the State Department by the bureaucracy there about how much the Ukrainians were involved opposing Donald Trump as a candidate."
Well, isn't that interesting? Schiff leaked details that suggested Taylor proved Trump engaged in a quid pro quo with Ukraine.
Yet, according to Nunes, John Ratcliffe destroyed this witness is just 90 seconds.
According to reports, Taylor is a biased former diplomat that, like most liberals, tried to roast Trump.
But Republican John Ratcliffe took apart Taylor's argument in mere seconds.
Of course, we are not allowed to even read the transcript of the interview. Because pathetic Schiff can't let the truth come out.
There was no quid pro quo and no evidence of wrongdoing. All of the left's entire case is based on that.
Yet from what we are learning, there is no smoke, no fire.
So, why aren't we allowed to read this transcript? Why can't the American people—who elected Trump—find out what is going on in these meetings?
SHARE if you think this impeachment hearing is a complete charade!
Source: The Federalist Papers