After NYC Spirals Out Of Control – Trump Drops The Boom On Governor Cuomo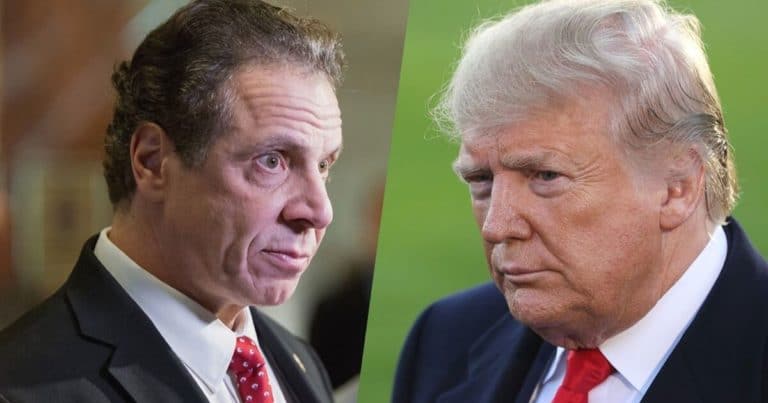 The nation is watching as, once again, New York City lets a crisis spin out of control. It seems their leaders refuse to do what is necessary to protect their own.
But New York (and its leaders) can't just do whatever it wants. There are consequences when elected officials sit back and let chaos spread.
President Trump is calling out the state and local leadership and is demanding quick action.
From Twitter:
Yesterday was a bad day for the Cuomo Brothers. New York was lost to the looters, thugs, Radical Left, and all others forms of Lowlife & Scum. The Governor refuses to accept my offer of a dominating National Guard. NYC was ripped to pieces. Likewise, Fredo's ratings are down 50%!
NYC, CALL UP THE NATIONAL GUARD. The lowlifes and losers are ripping you apart. Act fast! Don't make the same horrible and deadly mistake you made with the Nursing Homes!!!
President Trump slammed Gov. Cuomo and the New York City mayor for letting the "radical left" riot and loot the city.
He accused the governor of refusing his offer of National Guard troops to keep the peace.
In turn, Trump says the city was "ripped to pieces." He demanded the city call up the National Guard and act fast.
Our Take:
It's pretty hard to believe Gov. Cuomo and Mayor de Blasio would sit back and let riots destroy New York.
This kind of thing would have never happened when Rudy Giuliani was in charge. Yet we've had to see one of the greatest cities in the world reduced to a laughing stock.
All thanks to these two "leaders."
Anyone with a brain knows that people who smash up store windows, loot businesses, and set fires are not "peaceful" protestors.
Don't believe anyone in the media who tries to say any of this is about justice for George Floyd.
Legitimate calls for justice ended when Antifa thugs took over.
For Cuomo and de Blasio to sit back and do nothing as lives are in danger, is tantamount to a crime. President Trump is calling on these leaders to actually do their jobs.
Instead, they do nothing.
If Trump steps in and sends the Guard himself, they'll accuse him of overstepping their authority! But something has to change. These riots must end.
SHARE to demand New York to call in the National Guard.