Democrats Angered By NYT Trump Headline – So The Paper Quickly Changes It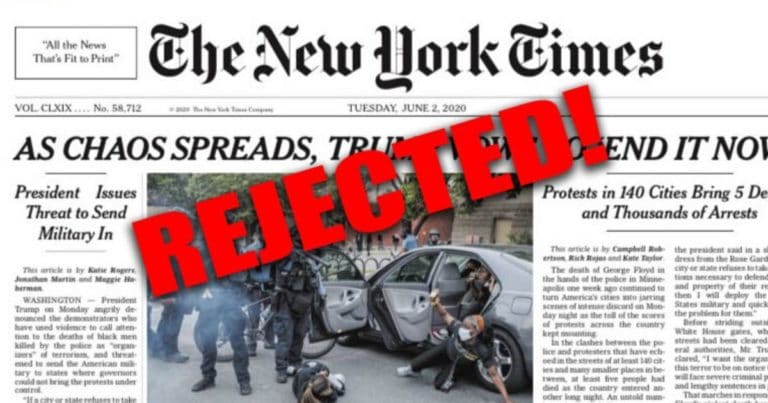 President Trump has been using his authority to restore peace to cities across the country.
Meanwhile, the media has bent over backwards to misrepresent his efforts. They ignore Democrat governors who sit back and let their cities burn while saying it's all Trump's fault.
When the New York Times ran with a headline that focused on Trump's actions, Democrats threw a tantrum.
Here's AOC: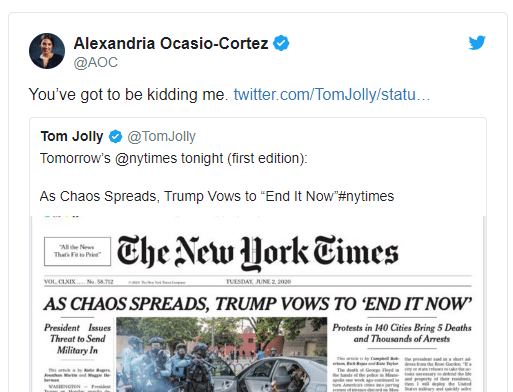 And Omar: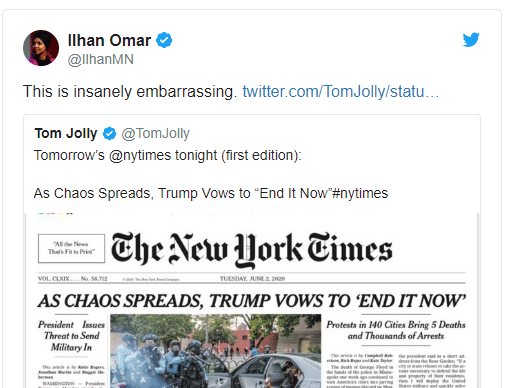 So, the pathetic paper changed it.
From Washington Examiner:
On Monday night, New York Times print editor Tom Jolly previewed the front-page headline, which initially read, "As Chaos Spreads, Trump Vows To 'End It Now,'" but it quickly received flak for failing to acknowledge the president's militarized and forceful reaction to the protests.

The new headline… reads: "Trump Threatens To Send Troops Into States."
The New York Times was going to run a headline that read, "As Chaos Spreads, Trump Vows to 'End It Now.'"
When Democrats started to complain (over the accurate title), the paper changed it to make Trump look bad.
Our Take:
How sad. The New York Times almost ran with an honest headline. Probably the first time in decades!
The first headline, you probably agree, was 100% accurate. Chaos was spreading across the country and President Trump promised to end it.
He is activating the National Guard and other military forces to put an end to violent riots and looting.
The people standing in his way? Pathetic liberal governors and mayors who order their cops to stand down.
But the New York Times is apparently too cowardly to stand up to the bullies in their own industry. After liberals complained about the headline, they changed it to be vague—even negative.
How utterly pathetic.
Our nation burns and the New York Times is going out of its way to misrepresent the situation.
I would have actually been proud of the Gray Lady, if they kept the first headline. Instead, they proved, once again, they are not in the business of real news.
Now, more than ever, we need a media that will report the facts. Instead, we have a media that fans the flames of fear and anger.
They ignore the real problem and create misleading headlines. All in the name of liberal politics.
SHARE if you think the New York Times is fake news.
Source: Washington Examiner