Obama Wants 1 Thing to Happen Before 2024 Election – And It's Just Wicked Creepy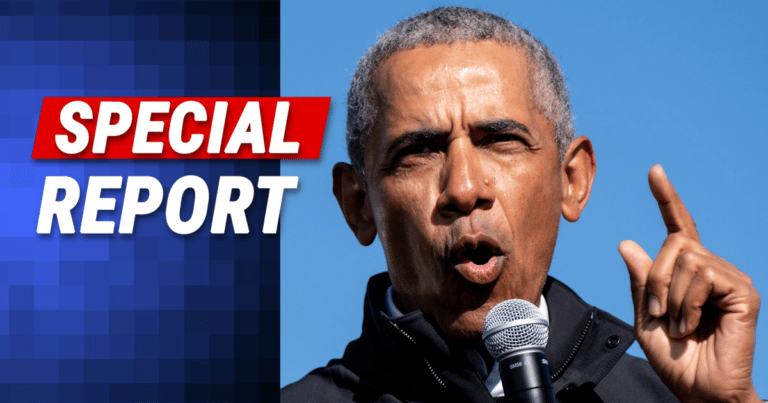 What's Happening:
Big Brother wants a system to control everything, especially information, heading into the 2024 presidential election.
All information now needs a way to digitally track the creator, so says the party of Big Brother. Democrats want to find and track anyone who disagrees with them. Opposing the dear party is labeled "misinformation" and they are hell-bent on stopping any opposition.
Party faithful found the perfect mouthpiece to get the world to step into line. Former President Barack Obama, chief creepy guy of the left, won't go away as he seeks to control all information.
He wants your "digital fingerprints."
From Breitbart:
The former Democrat president wants the origin of digital information such as photos and videos to be clearly traced, to fight the spread of deepfakes.

"That technology's here now," said Obama in a discussion with his former advisor David Axelrod on the latter's CNN podcast. "So, most immediately we're going to have all the problems we had with misinformation before, [but] this next election cycle will be worse."

"And the need for us, for the general public, I think to be more discriminating consumers of news and information, the need for us to over time develop technologies to create watermarks or digital fingerprints so we know what is true and what is not true."
What may be the creepiest about this is Obama and Democrats deciding what is "true." We all know they lie and call it the truth with no remorse.
This isn't a new "cry for help" from Obama. He has coined similar terms in the past and baited the media to follow his lead. His only goal is to derail political opponents and discredit conservative viewpoints throughout the media.
From Breitbart:
Before he left office, President Obama helped spark the media panic over "fake news" — later rebranded as "misinformation" — that was adopted by the media, NGOs, and tech companies as a pretext to suppress conservative content.

Hours before election day 2016, the Democrat president was giving interviews to the media about the dangers of "fake news," and in the weeks following the election of Donald Trump, used public appearances to talk about the problem of "misinformation."

Prior to this, the topic was not discussed widely in the media. Afterwards, it was everywhere. And by 2020, it was a key part of the media and tech industry's efforts to interfere in the election.
Obama is a master of deception and tempting news media to do his bidding without repercussions to him. Expect the left to jump at this new phrase and start calling for "fingerprinting" anything created by conservatives.
How far could this go? Will it be worse than facial recognition?
With a "digital fingerprint" any text, email, social media comment, or uploaded photo could be traced back to you and be used to label anything you say as "misinformation." You could be silenced across the internet with one click of the mouse on a computer.
As George Orwell said in his book 1984, "Nothing exists except an endless present in which the Party is always right."
That's just creepy.
Key Takeaways:
Leftist leader wants your "digital fingerprints" to track information.
Barack Obama back in the spotlight wanting to track conservatives.
Creator of "fake news" label wants to dictate the new "truth."
Source: Breitbart