Former Obama DHS Secretary Turns On Biden – He Gives Joe A Direct Order: "We Have To Get Control Of Our Borders"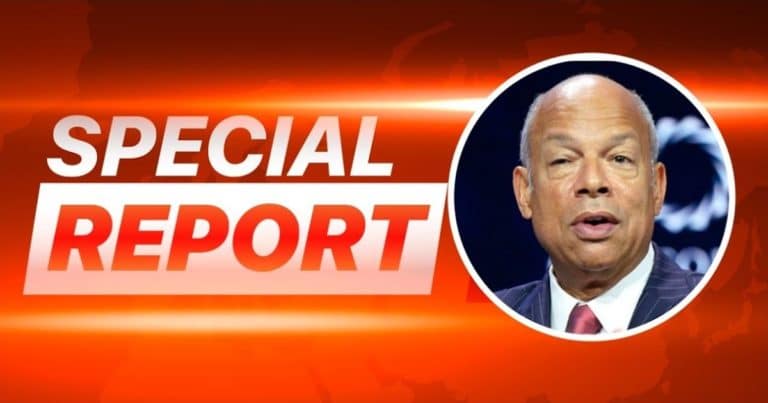 According to most Republican leaders, the southern border situation remains one of President Joe Biden's biggest failures. And the crisis doesn't appear to have improved over the summer.
In fact, the Department of Homeland Security (DHS) reported over 200,000 encounters in August, which is a massive year-over-year increase, and shows America that we still don't have control.
That's exactly what a former Obama official says, too — and he's telling the Biden administration to act. Immediately.
Jeh Johnson was the DHS secretary during former President Barack Obama's reign, and this isn't the first time he's criticized Biden and his staff.
Now, he called out Biden's team for simply not doing enough to control the border. While Johnson believes we must be "fair and humane," he also cited the disturbing encounter numbers.
In speaking to CNN last week, the former DHS secretary told host Ana Cabrera that America needs to "send a strong message."
Many U.S. citizens would say we're absolutely not doing that right now, which is a big reason why the border crisis doesn't appear to be improving.
This just can't continue, says Johnson.
Via The Daily Wire:
If you go to any border congressional district, Lorado, Texas, for example, which is 85 percent Mexican-American, 80 percent or so Democratic, they'll tell you that we should be fair and humane to migrants.

But they also want us to control our borders. We have to get control of our borders. And 200,000 a month is a lot of people.
Johnson added that the Biden administration must improve in the "sustained engagement" issue. And he said they need to do it "over and over again" if they're going to be successful in stopping the surges.
Like most Democrats, Johnson does support DACA and a path to citizenship for unregistered foreigners in this country.
That being said, even he has to admit that right now, the southern border is in bad shape.
In order to regain a grip on the entire fiasco, Johnson said the U.S. needs to remind migrants that there's a right way to do things, and a wrong way:
But at some point along the way, we do need to send a strong message to the places where they're coming from that there's a right way and a wrong way to come to the United States.

This is the wrong way. And if you come here, you will be turned back.
Lastly, Johnson said the sheer number of incoming travelers "overwhelms the ability of DHS, the Border Patrol, and ICE." It also "saps the communities on the border."
These are complaints we've often heard in 2021, especially from southern state leaders who see this crisis first-hand every day.
And currently, there doesn't seem to be much evidence that the federal government is doing anything to fix the problem. Vice President Kamala Harris has been mostly silent on the matter, for instance.
But people like Johnson will continue to speak out, because this isn't something we can just ignore.
And the longer we try to pretend it isn't an issue, the more problems it will cause — and many politicians, especially Republicans, say it will directly impact the lives of every American citizen.
Key Takeaways:
Former DHS secretary Jeh Johnson called out the Biden administration for its failure to control the southern border.
Johnson cited the 200,000 encounter number for August, and added that the U.S. must send a "strong message" to migrants.
Lastly, the former Obama-era chief said the migrant surge "overwhelms DHS, Border Patrol, and ICE."
Source: The Daily Wire