Obama's Spy Chief Clapper In Hot Water – New Evidence Suggests He May Have Committed Perjury In Congress Testimony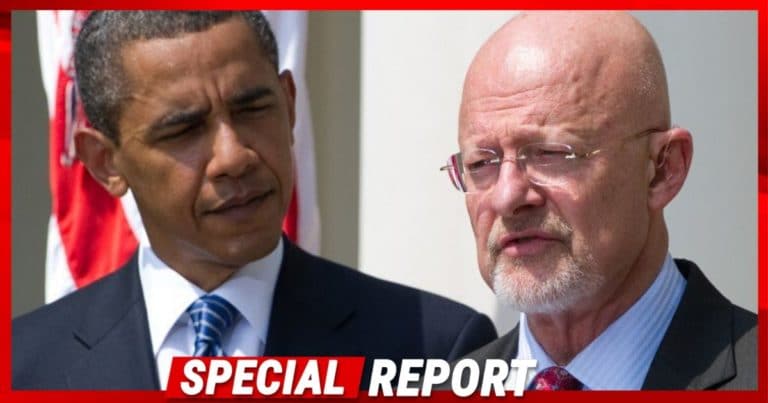 New evidence on the Flynn case is coming out like a fire hose. And it looks like some top officials are getting doused.
Much of what's coming out seems to contradict what Obama's people said for years. James Clapper, for one, went before Congress and claimed he never informed Obama about the Flynn case.
But now it looks like the very opposite could be true.
From Just The News:
Newly declassified evidence undermines James Clapper's testimony to Congress, raising questions about whether the former Director of National Intelligence misled lawmakers about briefing former President Obama on former Trump National Security Adviser Michael Flynn's telephone conversations with a Russian diplomat.
Wow. New documents seem to undermine James Clapper's testimony to Congress concerning what he said to the president about Flynn's investigation.
Clapper told Republican interviewers that he did not brief Obama about the Flynn's wiretapped phone calls.
Yet Comey's testimony, we are now learning, states that Clapper briefed both Obama and Biden about the investigation.
That appears to agree with other documents that reveal how top officials held a meeting with Obama, discussing the Flynn case.
Now, Rep. Devin Nunes has referred "several people" to the Justice Department for possible false testimony.
Could Clapper be among them?
For years, these former Obama officials throw accusations against Trump, Flynn, and other members of the current administration.
They said, time and again, all sorts of things. Some have even accused the president of treason.
None of them were very kind to Flynn, whom they wanted strung up like a pinata.
Yet it appears what they've said publicly contradicts these new documents. Not only that, it looks like Clapper may have lied to Congress itself.
That at least warrants a serious response from our Justice Department, don't you think?
SHARE if you want James Clapper investigated and held accountable.
Source: Just The News