Barack And Michelle Obama Branded "Deplorables" – They're Trying To Steal 'Higher Ground' From Book Publisher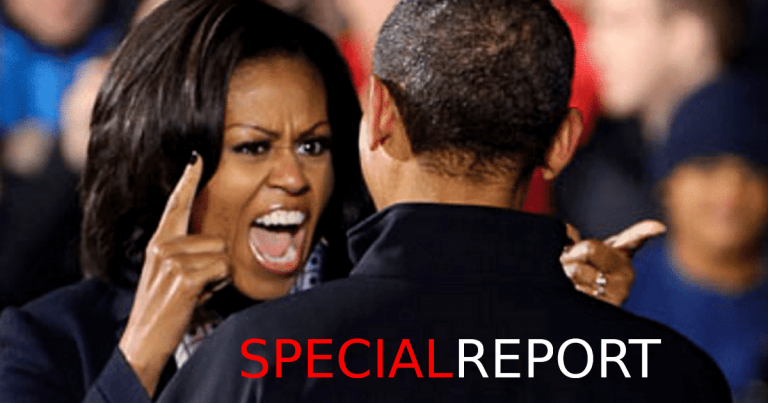 Barry and Mikey just got exposed for bullying the little guy – and the media is silent!
Barack and Michelle Obama often like to say "when they go low, we go high."
In fact, you can call it their family motto.
They like that phrase so much they want to use it as the name of their new production company, which is cashing in on a Netflix deal.
"High Ground Productions" will be the name of all the liberal content they produce for the streaming service.
There's only one problem…
There is another company out there with a similar name, in a different business.
So, are the Obamas going high and just letting it go? Nope. They are attacking this company, earning themselves another nickname.
From Fox News:
Barack and Michelle Obama have been accused of "deplorable behavior" by a Los Angeles entertainment attorney for filing a "meritless petition" amid a trademark dispute over the name of their company, Higher Ground Productions.

The legal team representing the Obamas filed a petition to cancel the trademark of an e-book publishing company called Higher Ground Enterprises.
Wow. The Obamas, outraged that another company shares a similar name are actually trying to cancel the trademark of this other company.
Isn't a $60+ million book deal and a $15 million mansion on Martha's Vineyard? Apparently not.
They want to steal "Higher Ground" from this existing e-book publisher so that they can claim the trademark for themselves.
Pretty ugly behavior. I guess they thought they could push around a small company, because they once lived in the White House.
For that low-down dirty move, they are being called deplorable by the company's attorney. Sounds about right.
Can you imagine the arrogance of trying to ruin another company just so you can trademark your production company?
They probably assumed their company will be far more successful than this e-book publisher. So, who cares, right?
Except just because you were once the president doesn't mean you get to bully other businesses.
Higher Ground Enterprises got to the trademark first.
Maybe, if the Obamas were decent, they could have negotiated with this company. Instead, they went for the brute force method. Something Obama commonly did as president.
Let's hope they don't get away with it this time.
SHARE if you think the Obamas are deplorable for what they did to this company!
Source: Fox News