Obama's Private Call On Flynn Slips Out – Looks Like Barry Is Concerned, Says "Rule Of Law Is At Risk"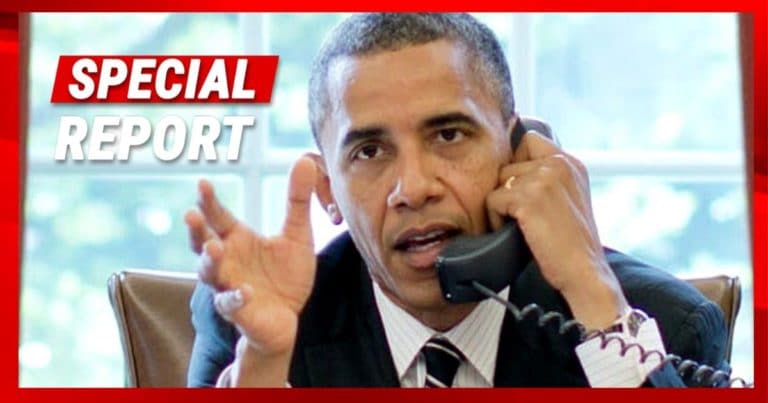 Now that the DOJ dropped Flynn's case, we're learning more about what happened behind the scenes. Many are questioning how far the setup went.
Some Americans believe it went all the way to the top. Even Trump is calling this emerging situation, "Obamagate."
But what does Obama think of all this? He might not be publicly talking, but something came out.
From Yahoo:
Former President Barack Obama, talking privately to ex-members of his administration, said Friday that the "rule of law is at risk" in the wake of what he called an unprecedented move by the Justice Department to drop charges against former White House national security adviser Michael Flynn.
Hmm… how interesting. Soon after the DOJ dropped their charges against Flynn, Obama was on a private call to his ex-staffers.
He claimed that the "rule of law is at risk." M-kay, Barry, nice try.
So, apparently a "private" call is so "private" that it easily gets leaked to Yahoo News. Show of hands: who thinks this was leaked on purpose, so the media can spread it far and wide?
Is it a coincidence that other Democrats are publicly using the same term? That because Attorney General Barr dropped the Flynn case, suddenly the "rule of las" is at risk?
Democrats weren't worried about the "rule of law" when our Southern border was left undefended.
They didn't worry about the "rule of law" when former FBI head James Comey gave Hillary Clinton's email server a pass.
They didn't worry about the "rule of law" when the DOJ used a questionable dossier to get a warrant on an American.
Yet now, when the AG used his lawful authority to clear Flynn (of a minor processing crime), sudden Obama's worried about the rule of law.
He didn't seem so worried about it when he was in the Oval Office.
It's pretty rich that Obama is coming out now with this statement. Now that information is coming out that might implicate him in some way.
Perhaps he's "circling the wagons" by giving his allies in the media talking points to protect him?
But something tells me that isn't going to work. And that Obama might be appearing before a jury sometime soon.
SHARE if you think the Obama team should be investigated.
Source: Yahoo News