Officer Sees Homeless Man Trip Over His Worn-Out Shoes – His Next Move Put Tears In My Eyes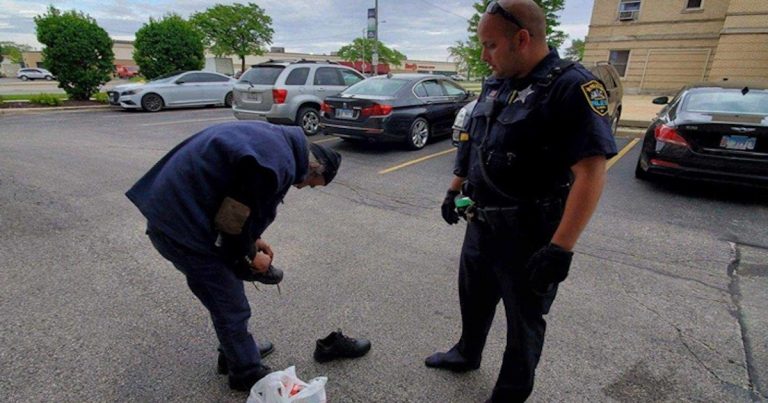 And no, he didn't just buy him a pair of shoes…
Like many policemen, Officer Brian Zagorski knows all about serving the public.
It isn't just about nabbing the bad guys and protecting those in danger.
It's also about simply helping those in need of assistance, and lending a hand to make the community a better place.
So, when Zagorski saw a homeless man tripping over his worn-out shoes, he approached with one kind-hearted goal in mind:
He wanted to brighten this poor man's day.
First, Zagorski asked if the guy could use a bag of toiletries and supplies courtesy of a community assistance program.
The proud man declined the offer, however, and was about to move along when Zagorski did something amazing:
He bent over and began untying his shoelaces.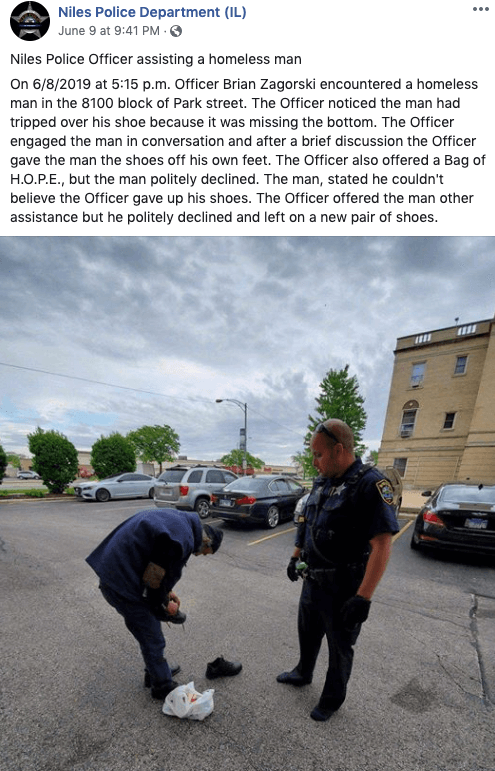 That's right, he'd noticed the homeless individual's feet appeared to be about the same size as his own, and he thought his shoes might fit.
And they did!
It's the ultimate humanitarian gesture, isn't it? To give your own shoes off your feet to a fellow soul in need?
THIS is why it's so important to support our brave boys in blue!
Officer Zagorski could've easily walked right on by the homeless man, but he didn't.
Not only did he ask if he could use any basic supplies, but he went that extra step (no pun intended) and gave the man his own shoes!
And his reaction to the whole thing says it all:
"I was happy," Zagosrki told WGN-TV.

"I made a difference, and that's essentially what we sign up to do, is to make a difference."
Absolutely right.
Police officers exist to make a difference; they serve the public and community in a hundred different ways every day.
It isn't just about snagging drug dealers and dealing with other dangerous situations. It's also about being a decent human being.
And though Zagorski hasn't seen the homeless man since, he says he'll keep an eye out … just in case he needs any more help.
This is a true-blue hero, right here.
What would we do without wonderfully kind-hearted public servants like Officer Zagorski? SHARE to spread the respect!
Source: Good News Network