After Ohio Democrat Demands Donald's "Respect" – His Own Daughter Gets Arrested At Trump Rally For Disorderly Conduct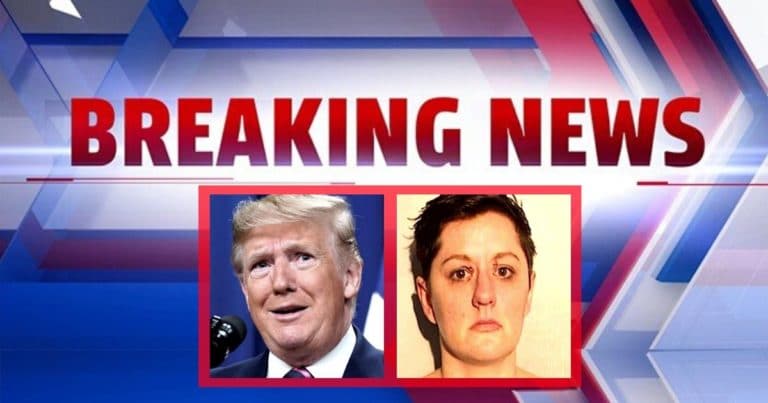 You're going to love the irony here, fellow patriots.
President Donald Trump recently held a rally in Toledo, Ohio. Before that rally, he received a lecture from a local Democrat.
Democratic County Commissioner Pete Gerken told Trump he'd be "a guest in our house."
He then said they were "a welcoming community" and they "embrace everybody that comes here."
…but it seems Gerken's own daughter didn't get that message.
After her father demanded respect from the President, Laura Gerkin decided to cause serious trouble at that Trump rally.
Via The Daily Caller
The daughter of Democratic County Commissioner Pete Gerken of Lucas, Ohio, was arrested Thursday during President Donald Trump's rally in Toledo for disorderly conduct and resisting arrest.

Laura Gerkin's arrest came just three days after her father had admonished Trump to have respect for the community prior to his visit.
See? I promised you'd love the irony!
Gerken, 36, was arrested by police after she got into a physical altercation.
The police report said Gerken "was in a highly emotional state and was yelling obscenities both at the person she was engaged in the confrontation with, officer and passerby."
And even when police warned her to stop, she ignored them. She just kept freaking out, like leftists apparently love to do.
She didn't even have the decency to go peacefully.
Gerken refused to to put her hands behind her back, and she had to be forcibly restrained and apprehended.
Oh yes, that sounds like a respectful and welcoming person, doesn't it?
Your own father has the nerve to lecture the President on behavior. So you go and attack someone in public, then resist arrest.
Hypocritical liberals are all the same.  They preach one thing, and do quite another.
And you know … I'm sick and tired of it. Aren't you?
SHARE if you're tired of liberal violence and hostility!
Source: The Daily Caller