After Olympian Gwen Berry Protests Our National Anthem – She Fails Miserably And Places 11th Out Of 12 People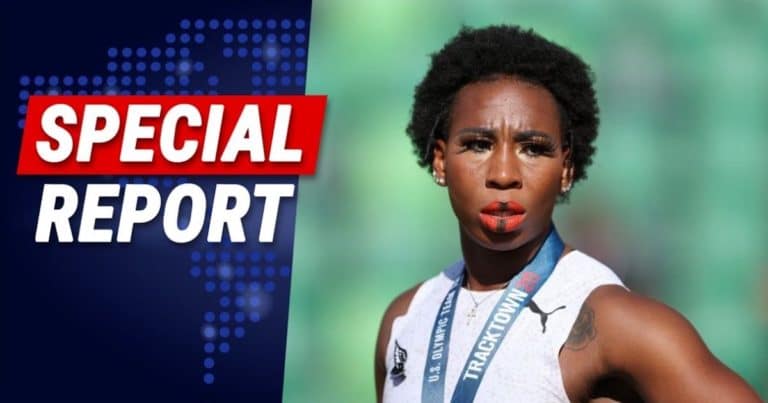 This year's Olympic Games is loaded with controversy and scrutiny, and not only because of the ongoing pandemic. Many Republicans and right-wing citizens are calling it the "woke" Olympics.
And before they even started, some athletes were making waves. This goes double for U.S. hammer thrower Gwen Berry, who received plenty of backlash for her "podium protest."
Well, she won't get a chance to do it again.
Back in June, the 32-year-old won a bronze medal during the Olympic trials. However, instead of holding the American flag, she held up a shirt that said, "Activist Athlete."
But shortly afterward, she made the situation even more combustible.
That's when she told reporters she was "pissed" that they played the national anthem during the ceremony. She claimed "The Star-Spangled Banner" holds violent language against slaves.
Then in July, just before the Olympics started, Berry promised she'd "represent the oppressed people" if she won a medal in Tokyo.
Except that didn't happen. Via the New York Post:
Gwen Berry failed to medal during the women's hammer throw finals on Tuesday.

Berry finished in eleventh place out of twelve competitors, registering a distance of 71.35 meters.
This means she won't get an opportunity to protest again on a podium.
It's likely that many Americans are relieved. They didn't like to see someone plainly insulting the country they represented, especially when that person is going to the Olympics as a heralded athlete.
Berry has a history of thumbing her nose at the U.S., too.
She raised her fist in protest on the podium during the Pan-American Games two years ago, for example. So maybe it's no surprise that she wanted to make another "statement" at the 2024 Olympics.
Instead, she's garnered her fair share of critics.
Many say that if she hates America so much, maybe she should represent another country when competing. And others point out the hypocrisy of her statements, especially in regards to alleged "oppression."
But either way, Berry likely won't have much to say after these Olympics.
She didn't get the opportunity to cause more controversy and again, it's very probable that millions of Americans are relieved that she didn't create more confrontation.
Key Takeaways:
American hammer thrower Gwen Berry failed to make the podium at the Olympics. She finished 11th out of 12 competitors.
This means Berry won't have the opportunity to protest against the U.S. (at least from a podium).
Berry has a history of turning her back on America, as evidenced by her actions at the Pan-American Games 2 years ago.
Source: New York Post