After Omar Says She Believes Biden's Accuser – She Commits A Swamp Flip-Flop For Joe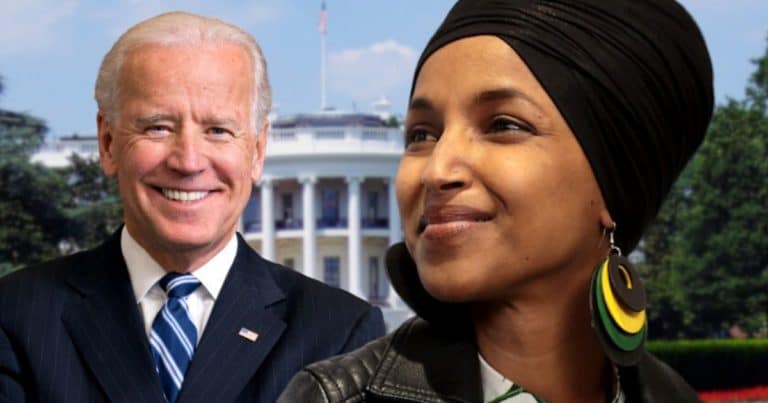 Yesterday, we reported on how Ilhan Omar actually stood up to Joe Biden, saying she believed his accuser. She even said if it was "up to her," Biden wouldn't be the party's nominee.
Pretty impressive, right? This Democrat, a woman with a questionable reputation herself, made the shocking and difficult choice to call out the party's main man.
Except, as soon as the dust settled, she changed her stance.
From Twitter:
Believing survivors is consistent with my values. Yes, I endorsed against Biden and I didn't pick him as our nominee. With that said, in this interview I did on May 6th, we talked about that and quotes aren't always in context. I will vote for him and help him defeat Trump.
Omar took to Twitter to explain that she did believe Tara Reade. That was "consistent" with her "values."
Yet she suggested her comments were taken out of context. Because… drumroll please… she is still voting for Biden!
All in the name of beating Donald Trump.
Our Take:
Look at that! Yet another Democrat violating her values to win an election.
Tell me something: can an honest person both say a man is guilty of assault and should be the president?
Omar says she believes Reade. She even called her a "survivor." So, how can she in good conscience vote for Joe Biden?
Doesn't that mean, in her mind, she'd be voting for an assaulter?
If that shocks you, it shouldn't. Omar isn't even the first Democrat to say this.
Most of them are trying to worm out of their past statements to "believe all women." All so they can defend Sleepy Joe.
Others are openly saying they believe Reade but still support Biden. Their hatred for Donald Trump is so intense, they'd back a man who might have assaulted a woman.
This is what the Democratic Party has been reduced to. Do you really think the Democrats of the past would have stuck with Joe?
Yet today a prominent Democrat like Omar can openly "believe" a victim, while still supporting the man who is accused of assaulting that victim.
That should boggle your mind. That's beyond hypocrisy.
SHARE to expose Omar's two-faced statement.
Source: Twitter