Ilhan Omar Sides With Biden's Accuser, Says Justice "Should Never Be Denied"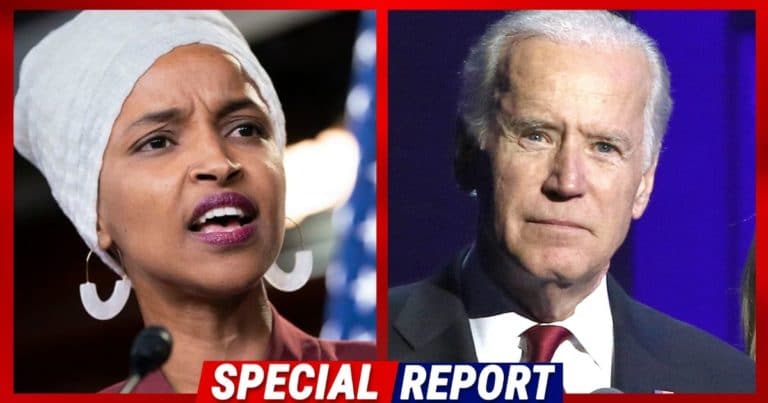 Despite their history of believing all women, most Democrats have sided with Joe Biden, not his accuser. It looks like these "champions of women's rights" are turning their backs on Tara Reade.
It wasn't that way when a woman accused Brett Kavanaugh. These same Democrats all but condemned the Supreme Court nominee, saying all women must be believed.
But one notable Democrat appears to be staying consistent. And her party might not like it one bit.
From Daily Wire:
Omar said that justice should not be "denied" regarding Reade's allegation against Biden.

"I do believe Reade," said Omar. "Justice can be delayed, but should never be denied." Omar also said that Biden would not be the nominee if she were the one making the final decision.
Wow. Bucking the trend of most Democrats, Rep. Ilhan Omar says she believes Tara Reade's accusations.
She even went as far as to say that if she was "making the final decision," Joe Biden would not be the nominee.
Our Take:
We remember that Omar endorsed Bernie Sanders for president. While other Sanders supporters have already backed Biden, it appears Omar has not been quick to do so.
In fact, former Sanders fan Alexandria Ocasio-Cortez appears to be backing Biden. She even waffled over the Reade accusation, saying it wasn't "clear cut." Hmm… something smells fishy.
It's hard not to think Democrats are rejecting Reade's story because they are eager for Biden to win.
Right now, he's the only dog in the race. All their other presidential candidates dropped out. It looks like it will be Biden against Trump in November.
Are they willing to ignore Reade's allegations, just to see Trump removed from office? Pretty dark, if true.
At least Omar doesn't seem to be so quick to turn on her previous statements, just to score a win.
Is she doing this because she really believes Reade and wants Biden to face justice? Or are there other political motivations at stake?
We don't know for sure, but at least once in her political career, it appears Omar is doing the right thing.
SHARE if you stand with Tara Reade, not Joe Biden.
Source: Daily Wire