New Omar Evidence Slips Out – Ilhan Did Not Want America To Know She Paid Another $150,000 Lover's Firm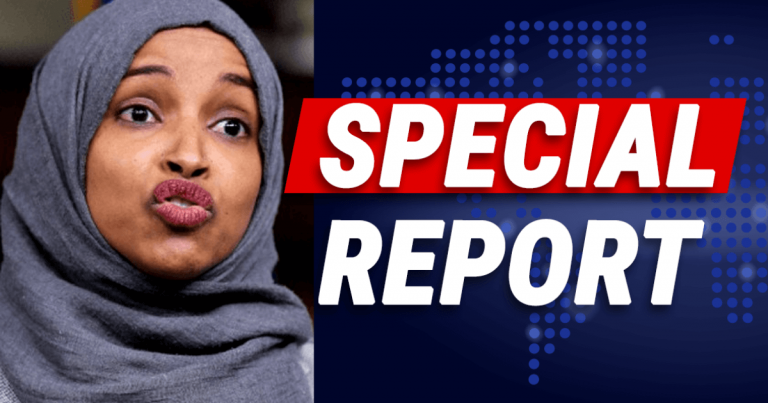 The evidence against Ilhan Omar keeps building—but this might be the worst yet.
Omar is a Minnesota freshman congresswoman. And her first year in D.C. has been less than stellar.
It might be safe to say that more than a few Minnesota residents regret putting her into office.
It has more to do with the damaging things she's said about Americans (being ignorant), 9/11 victims, and Israel.
Seems like this "squad" member—who is an advocate for Bernie Sanders and socialism—has a troubled history with doing the right thing.
We already knew she paid her married lover's firm hundreds of thousands of dollars.
That sparked a complaint. But did she stop?
Not quite. Seems like she blew off the American people and kept going.
From Daily Mail:
US Congresswoman Ilhan Omar paid her political consultant and lover almost $147,000 more for services than had previously been known, according to reports…

Omar's campaign funneled $146,713 into finance chief Tim Mynett's consulting firm, 'The E Street Group' for digital advertising, fundraising consulting and video production, records show, reports the New York Post…

Flaherty requested an investigation after DailyMail.com's revelation of an affair between Omar and Mynett, which led to her divorce from her husband Ahmed Hirsi.
Woah. According to this report, Ilhan Omar paid an additional $147,000 to her lover's consulting firm.
This comes after she was already outed for funneling money into Mynett's company.
We know that politicians love hiring marketing firms to help them win elections. Sometimes, that costs big money.
But the person who runs this company should raise your eyebrows. Both Omar and Mynetts' marriages ended, after word came out of their affair.
So, Omar was funneling hundreds of thousands of dollars to her lover's company. That has to be a conflict of interest right?
Was this money used for legitimate services? Or was did Omar find a clever way of kicking back some serious cash to her booty call?
I can say for sure, but this is too close for comfort.
If a Republican had been doing this, you better believe there would have been an investigation.
So why not this Democrat?
SHARE if you want a full investigation into Ilhan Omar.
Source: Daily Mail