Ilhan Omar's Financial Records Spill Out – In 2020, Over $1 Million Has Been Paid To Her Husband's Firm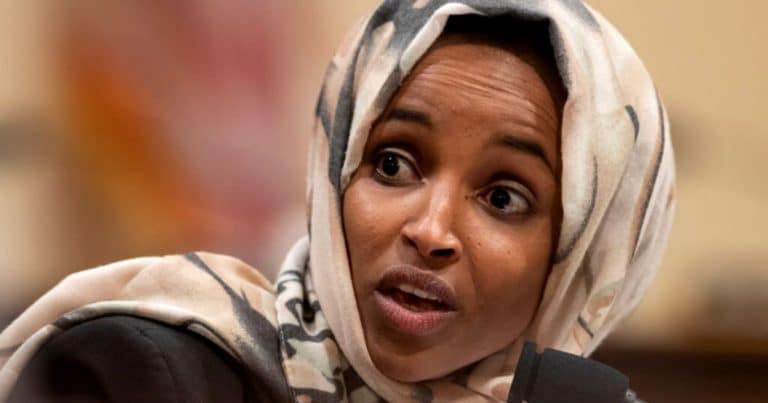 What's Happening:
Democrat congresswoman Ilhan Omar has been in the news recently. But not all of it has been positive.
Video of the woman calling for the dismantling of America's "economic and political" systems went viral. Her critics have accused the Democrat of wanting to destroy the foundation of the country's democracy and way of life.
That only seems to be the beginning of her problems, though. Watchdogs have been looking into her books. And it seems like over $1 million from her campaign has gone from one pocket to the other:
Federal Election Commission records released Tuesday afternoon show that Omar's campaign funneled $228,384.93 last quarter to the E Street Group, a D.C.-based consulting firm run by the congresswoman's husband, Tim Mynett. The payments, predominantly for digital and fundraising services, bring the total that Omar's campaign has sent to Mynett's firm to just over $1 million for the 2020 cycle.
It appears Omar's campaign has paid her husband's firm just over $1 million during the current election cycle. According to reports, she paid them this large sum of cash for "digital and fundraising services."
Democrats often complain about "dark money" that influences politics. They have occasionally talked about campaign finance reform, in order to—as they claim—keep dirty money out of government. The assumption seems to be that liberals don't want rich companies buying elections.
But what about candidates who spend large amounts of campaign funds on services provided by their own family members? Omar's campaign raised cash for her re-election. Over one million dollars of that money went to her husband's company.
So… how much campaign money ended up in their joint bank accounts?
Campaign finance laws are very strict. Essentially, a candidate can only use money raised for the campaign on campaign expenses. They can't pocket the money for themselves. Those who do can face severe penalties.
But perhaps Omar has figured out a loophole? If the money goes to her husband's company for "services" and then into her husband's bank account—who's going to complain?
It was all for the campaign, right?
It's a questionable tactic, one that should require investigation. But it might be a long time before House Democrats get around to that.
Key Takeaways:
Ilhan Omar's campaign paid over $1 million to her husband's company.
The large sum of cash was for "digital and fundraising" services.
The transaction raises new questions on campaign financing rules.
Source: Fox News