Ilhan Omar Says She Speaks For American Voters – Claims Democrats Know "Things Most People Can't Understand"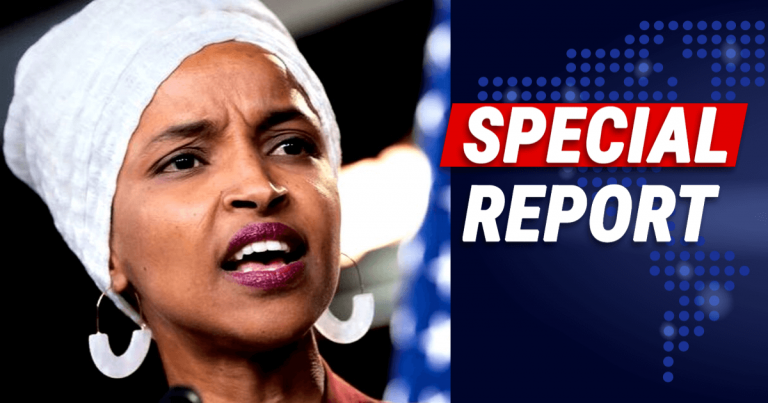 Omar thinks she knows what Deplorables are thinking – not much!
This one's really going to turn your stomach.
We already know that Ilhan Omar and her "squad" represent a socialist trend among millennials.
She is like other politicians who think they know better than you. She's not so much interested in respecting our values and interests—put forcing her agenda onto the country.
She and her allies know better than you on what to do with your own money. Don't believe me?
Just listen to how Omar describes her "wing" of the Democratic Party.
From GOP War Room's YouTube channel:
Democratic Rep. Ilhan Omar condescendingly said that Democrats know "things most people can't understand" when she spoke with Mehdi Hasan and Michael Moore on The Intercept's Deconstructed podcast that was taped on 10/23/19 and released on 10/24/19.
Wow, while endorsing—of all people—Elizabeth Warren, Omar says that Democrats know about things most people can't understand.
Oh, I'm so sorry, Ms. Omar. Please explain to me why you and your socialists know so much better than I do!
After all, I'm just a regular ol' bumpkin that never went to your fancy schools. I only work hard for my family and really don't deserve the money I earn.
I needed slick D.C. politicians to tell me what to think and how to live!
On top of that, this Democrat is against Trump's USMCA deal, which will eliminate the terrible NAFTA. And she doesn't want drug price reform so that you can actually afford live-saving medication.
Nope, she wants to turn America into a socialist country, and Americans are supposed to sit by and watch.
But you really can't understand all this complicated stuff, so don't even bother to ask her.
Shocked by what she said? Really don't be. This is how Democrats think all the time. Remember how Hillary treated regular Americans?
Heck, just look at how Nancy Pelosi talks down to us. These liberals think we are too dumb to make decisions for ourselves, so they want to make them for us.
No thanks, Omar. I don't want you deciding anything about my life.
COMMENT to tell Omar what Americans really think of her!
Source: YouTube