After Ilhan Omar Claims Trump Gave Her "PTSD" – A Navy Veteran Puts Squad Member In Her Place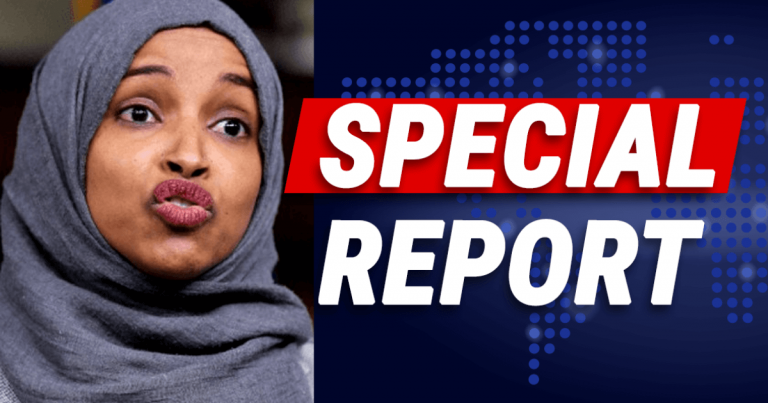 Rep. Ilhan Omar has a pretty bad reputation by now. But things keep getting worse.
Out of all the Democrats melting down over Trump's big win over Iran, Omar went the extra mile.
Honestly, what she has done is worse than what we could have imagined.
First, she was caught giggling on camera while another Democrat talked about American casualties.
Then, she stepped up to the mic and claimed she had PTSD over the situation Trump started.
Yeah, she went there.
Well, an Indiana congressman (and Navy veteran) wasn't about to let Omar get away with that.
From Fox News:
An Indiana congressman who served in Afghanistan as a member of the Navy Reserve spoke out on behalf of America's military veterans Wednesday after U.S. Rep. Ilhan Omar, D-Minn., claimed she suffered from post-traumatic stress disorder.

U.S. Rep. Jim Banks, a Republican, said Omar's comments were a "disgrace," calling the remarks "offensive to our nation's veterans who really do have PTSD after putting their life on the line to keep America safe."
Jim Banks called out Omar for her bogus attempt at covering up her terrible behavior. He said she was a disgrace to claim to have PTSD.
He said it was offensive to the many men and women who suffer from real PTSD—as a result of serving to keep us safe.
PTSD is a serious condition. It is trauma that is brought on after a soldier sees the hard realities war.
Our brave soldiers put more than their lives on the line when they fight to protect us. When they come home, they have to endure the memories of what they saw.
Some of them struggle their entire lives. That's real PTSD.
Omar thinks she can flippantly use that term—accusing Trump of triggering her.
Sorry, snowflake. You don't have PTSD. What you do seem to have is a shocking lack of respect for our servicemen and women.
And little love for our country.
This is the same woman who condemned sanctions on Iran, while pushing the same kind of thing against Israel, our ally.
So yeah, excuse me if I'm not buying her story.
SHARE to tell Omar she should shut up – or get out!
Source: Fox News