Opinion: Democrat Seattle Mayor Has Lost It – She Claims 'Summer of Love,' And Anarchists Are Patriotic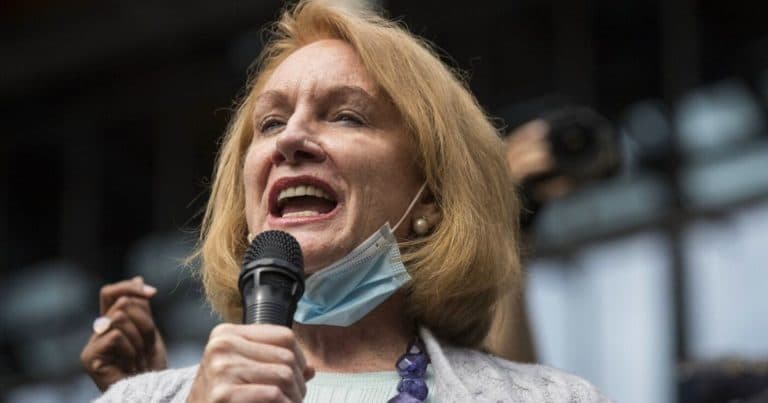 When there are problems in a city, just look at who the mayor is. In Seattle, a group of anarchists has taken over six blocks of the city.
Despite driving police out of a precinct, openly defying the law, the mayor is unwilling to put a stop to it.
Even though it looks like hell on earth, the mayor had the audacity to call it this…
From Daily Wire:
Seattle mayor Jenny Durkan, who had compared Seattle's "Capitol Hill Autonomous Zone" to a block party at a press conference, doubled down, likening the takeover of six city blocks to "more like a block party atmosphere" and answering Cuomo's question "How long do you think Seattle in those few blocks looks like this?" by saying, "We could have the Summer of Love."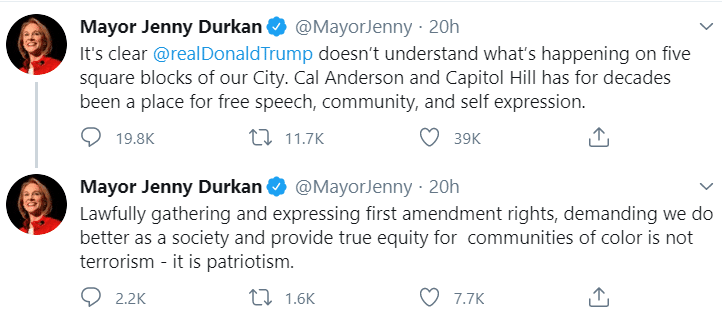 Mayor Durkan, clearly unable to contain this chaos, is trying to frame the occupation. First, she called it a "block party."
Then, she said it was more like the hippy "Summer of Love."
She followed that up to say on Twitter this is a true form of patriotism.
Our Take:
Yeah, this is like the Summer of Love, if hippies carried around guns and were starving to death!
Tweets from the anarchist leaders claim homeless stole all the food. They are begging for support in the form of vegan meat replacements. LOL.
Something tells me Doordash isn't willing to enter this zone. Not that these people have money to pay for it.
Another report shows them trying to grow crops on a scrap of land. Yeah, it didn't work out.
This looks like nothing less than a group of radical leftists trying to destroy a major American city.
The fact that this is allowed to happen is reprehensible. Mayor Durkan should resign in disgrace, replaced by someone who can actually save the city.
Instead, she makes excuses, as the situation only gets worse.
Is there a sensible person in this country that isn't watching this in utter outrage? The downtown of a major city has just been taken over and proclaimed a new country.
But, hey, the people of Seattle elected this moron. They get what they wanted.
Unless they are willing to reject the far-left Democrats they put into office, things will only get worse.
Sure, Trump might clear this place out… eventually. But if Seattle folk keep electing these liberals, it will only come back.
SHARE if you want every leftist Democrat voted out of office.
Source: Daily Wire, Twitter