Opinion: Trump Rebrands The Democrat Party- And His 2020 Opponents Better Be Sprinting For The Exits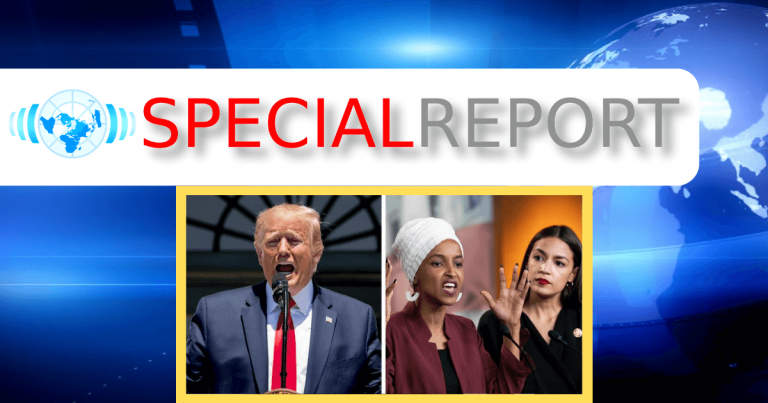 And it's all the Squad's fault—Donald has the perfect nickname for them!
The Democrat party is in serious turmoil.
In recent months, many high-ranking members of the DNC have shown their true colors … and just how far left they're willing to go.
"The Squad" might be the best example of this extremism, and it isn't doing Democrats any favors.
In addition to their over-the-top liberal ideas, these "Four Horsemen of the Apocalypse" are also clearly anti-Israel.
In fact, their hate is SO clear that Israel just barred two of the Horsemen – Reps. Rashida Tlaib and Ilhan Omar – from entering their country.
Israel is our ally, people. So why do we have elected officials who obviously loathe Jews…?
President Donald Trump isn't about to let this slide; he just blasted the Democrat Party with a scathing Tweet:
Representatives Omar and Tlaib are the face of the Democrat Party, and they HATE Israel!
Damn right they do. And this is a BIG problem for Dems.
Most Americans now view all Democrats as radical, extreme, and anti-Israel. And if this viewpoint continues into 2020…
Even if someone slightly more moderate – like Joe Biden – runs for President, Democrats will still have the taint of "The Squad."
Trump is right to humiliate Dems in this way, because they let it happen.
They didn't rein in these women when they had the chance, and they've become media darlings. And this has proven to be a colossal mistake.
So now, Democrats desperately need to distance themselves from people like Omar and Tlaib, because they just can't survive this taint.
And the majority of this country does NOT want radicals in charge. Especially those who despise our allies.
If we go into the 2020 elections, and most of America still thinks "The Squad" represents the views of the entire DNC, they're done. It's over. Trump wins.
This country supports Israel, and so does President Trump.
Trump is right to call them out, too, and he knows he gains the advantage when he labels Omar and Tlaib as "the faces of the Democrat Party."
Well, you did it to yourselves, Democrats. You embraced these women … and now they're ruining you.
That's called karma, by the way.
SHARE if you think the Squad is ruining the Democrat party!
Source: Twitter