After Rioters Throw Paint On Washington Statue – Trump Says They Have Enough Evidence To Throw Them In Jail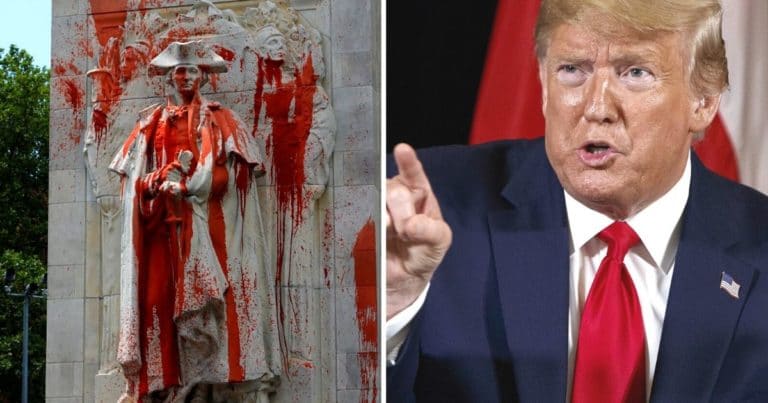 What's Happening:
While attacks across the country appear to be winding down, some anarchists continue to harm American monuments. A group of vandals threw paint on an iconic statue of George Washington in New York this week.
The president, who has been very strict on the destruction of U.S. monuments, called out the vandals himself. He promised that those responsible will be prosecuted, facing 10 years in jail, and let them know the DOJ have them on video:
President Donald Trump announced Tuesday morning his intent to prosecute two individuals who allegedly threw paint on a statue of George Washington in New York City on Monday.

"We are tracking down the two Anarchists who threw paint on the magnificent George Washington Statue in Manhattan. We have them on tape," the president tweeted. "They will be prosecuted and face 10 years in Prison based on the Monuments and Statues Act. Turn yourselves in now!"
New York City just might be the most surveilled city in the world, with security cameras set up on every major street corner.
It comes as no surprise that this particular intersection—with the famous Washington statue—had cameras running. The footage would be easily used by local law enforcement and federal officers to identify the culprits.
President Trump made clear earlier in the month that those who assault American statues and monuments would face the full brunt of the federal government.
He signed an executive order directing the DOJ to prioritize the prosecution of statue vandals.
This latest attack on an American monument gives the president a chance to prove his bite is as powerful as his bark.
Should law enforcement catch those responsible (a very likely scenario), they will throw the book at them.
Many hope such strong enforcement will bring an end to the nationwide destruction. Do you think Trump should take stronger action to end the vandalism?
Key Takeaways:
President Trump called out vandals who attacked a George Washington statue in NYC.
The president promised prosecution and up to 10 years in jail, saying they had video footage.
This comes after the presidents' vowed to end the trend of destruction of American monuments.
Source: Daily Caller