After Jill Biden Makes Ridiculous Claim – FLOTUS Gets Nailed By American Parents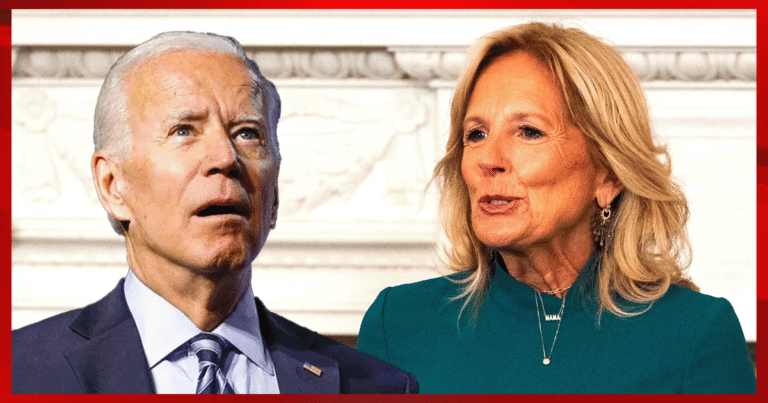 What's Happening:
At this point, we're all well aware of just how incompetent this administration is. Each member of Biden's team is worse than the last. None of them seem to know what they are doing–and they refuse to admit they are wrong! Perhaps one of the worst members of "Team Biden" is his own wife, Jill Biden.
The First Lady has shown as much disregard for the American people as Joe or Kamala. She is the one, you'll remember, that called Hispanic Americans in San Antonio "breakfast tacos." Yeah, she's a real winner. Biden is counting on Jill to keep his collapsing campaign on life support. Recently, she dared to make this ridiculous claim about our failed president. And parents were quick to confront her over it.
From Fox News:
Leaders of education and parents rights groups across the country sounded off after first lady Jill Biden claimed that her husband, President Biden, will always be "the education president."

"I knew that Joe would always be the education president…" Jill Biden told a crowd at the 2023 NEA teacher's union's annual meeting on Tuesday.
Wow. So Democrats just say the opposite of what's true now, huh?
Calling Joe Biden the "education president" is like calling Vladimir Putin "the peaceful president." Biden has done nothing to improve the education of our children. He's opposed school choice, the single program that is providing quality education to low-income and middle-class families.
He is, however, the teacher's union's stooge. Joe will always bend over backward for corrupt unions that fund his campaign. Biden has done more to enrich the lives of corrupt, woke public school teachers than any other president. And real educators and parents were not accepting Jill's grossly dishonest claim.
From Fox News:
"Biden is THE most anti-parent education president in the history of this country! And he is THE education president that carries the water for the NEA." […]

Jill Biden's comment comes shortly after the "Nation's Report Card" showed that reading and math scores for 13-year-olds dipped to their lowest rate in decades exacerbated by school closures that Biden's critics said he encouraged.
Biden critics reminded Jill that Joe Biden turned on parents and shuffled money into the hands of useless teachers. He was the president that encouraged school closures, even as COVID faded away. Oh, and then there was the time he let the DOJ label parents as "domestic terrorists" because they challenged CRT in schools.
Yeah, we haven't forgotten that either, Jill Biden. By the way, why hasn't there been an investigation into that? Hey, McCarthy! Add that to your reason to impeach Merrick Garland.
Is Joe Biden the "education president"? Only if you think Marxism is education.
Key Takeaways:
Jill Biden called Joe the "education president" before the nation's largest teacher's union.
Education leaders and parents blasted Jill for this grossly inaccurate claim.
Biden's DOJ investigated parents as terrorists; Joe Biden has pandered to corrupt teacher's union.
Under Joe Biden, test scores for American children have reached the lowest in decades.
Source: Fox News