This Patriot Got Bad News 50 Years Ago – Now He Has A DAILY Ritual To Honor The Fallen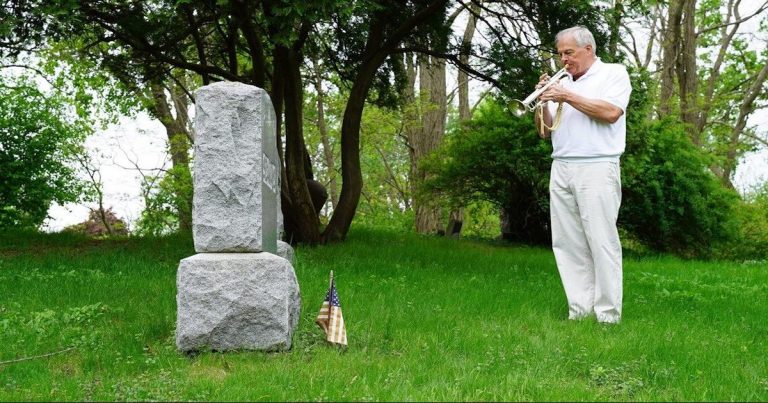 This dedicated American is a role model for EVERY proud American.
Gary Marquardt wasn't drafted into the Vietnam War.
No, this patriot enlisted to serve his country.
Unfortunately, the U.S. military informed him that he wouldn't be able to join his comrades in arms, due to a persistent bleeding ulcer.
It was a huge blow for Marquardt, who only wanted to stand by his brothers and fight proudly.
But decades later, at the age of 66, he found another way to serve America … and become a true brother-in-arms to those who served.
His ulcer might've stopped him from being a soldier, but nothing would stop him from honoring the fallen!
Via Good News Network:
"In 2014, Marquardt had been attending the funeral of a military friend when he was stunned to hear a mechanical recording of a bugle playing taps.

He couldn't help but be bothered by the lack of live music to honor a fallen soldier…

…so he walked into a music store and started learning to play the trumpet."
Marquardt wasn't a born musician and he'd never played an instrument before in his life.
But he practiced constantly.
His wife said it "was awful" at first but he quickly got better, and soon he was able to do what he'd wanted all along:
Pay homage to his U.S. comrades, this time by playing taps at the gravestones of the brave fallen.
In fact, he visits local cemeteries almost every day so he can play his carefully practiced tune for America's heroes.
He's even played taps from the balcony of his home in Excelsior, Minnesota!
Today, Marquardt is a proud member of Bugles Across America, a nonprofit organization that plays taps at military funerals around the country.
And though he's now 70 years of age, he's showing no signs of slowing.
THIS is what it means to be a respectful and dedicated patriot:
He was told he couldn't serve over 50 years ago, but his desire to support this country and its heroes never waned.
SHARE this amazing story of dedication and nationalistic respect — it'll make everyone's day!
Source: Good News Network