Speaker Pelosi Loses It Over Biden Allegations – On Live TV Nancy Tells Reporter "I Don't Need A Lecture"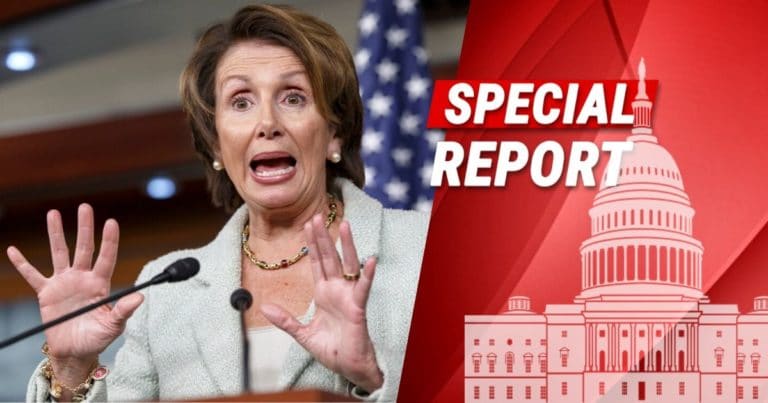 The Democrats seem to be trying to run from Biden's past, but it's catching up with all of them.
Nancy Pelosi just recently endorsed the former VP for president. Soon after, allegations of assault came up.
When asked about these allegations, directly, what did you think Pelosi did? She didn't act appropriately, we can tell you that.
From The Hill:
House Speaker Nancy Pelosi (D-Calif.) told a reporter that she doesn't "need a lecture or a speech" comparing the treatment of sexual assault allegations against former Vice President Joe Biden and Supreme Court Justice Brett Kavanaugh…

"There is also due process, and the fact that Joe Biden is Joe Biden," the Speaker later added.
When a reporter asked Pelosi about the allegations against Joe Biden, she snapped. She said I don't "need a lecture."
Uh, what? This reporter is simply asking about a very serious situation. The man is trying to become the president. And it seems the Democratic Party—who said we should believe all women—is trying to cover it up.
Pelosi continued to bury herself. She mentioned how she was a strong supporter of the MeToo movement. She pointed to the fact that she has four daughters.
She then dropped a doozy. She endorsed due process, but then said, that "Joe Biden is Joe Biden."
Really, Nance? Are you suggesting that, despite due process (and all that messy, justice stuff), Joe Biden should be treated differently?
She then claimed there was "never any record" of the alleged assault. Uh, not so fast, Nance. The Senate records are locked away at the University of Delaware.
Nobody knows for sure if there is a formal complaint against Joe. Reade asserts that she did complain. And there are five people who corroborate her story.
Saying "nobody ever came forward," is beyond your ability to claim.
Is Pelosi totally in the dark about this—or is she just lying to this reporter?
Regardless, we have to question how quick she is to get angry over this situation. She should be angry, but at Joe Biden.
If these allegations are credible, then it means he tried to get away with a serious crime. And that her party was complicit in getting a bad man nominated and covering up his misdeeds.
Yeah, there's plenty of reason to be angry, Nance. But not at this reporter.
SHARE if you want Joe Biden investigated.