Nancy Pelosi Just Caved to President Trump – Now She Says This Week Congress Will Go For $2,000 Stimulus Checks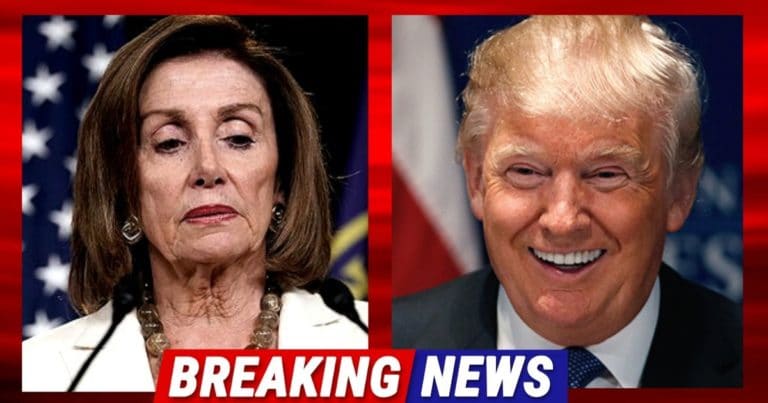 What's Happening:
President Trump was not at all happy at Congress's expensive "COVID relief" package. Although branded relief, much of the money will go to foreign nations and non-citizens.
Americans could look forward to only $600 checks. The president put pressure on lawmakers, urging them to make good on their promise to help Americans.
It appears fears of a veto were growing—which would prevent funding for the government and a likely shut down (not that Americans worry about the government).
And now, it looks like Pelosi has already caved to Trump.
From Fox Business:
House Democrats are planning to force a vote this week on increasing the size of the stimulus checks included in the $900 billion coronavirus relief package after President Trump demanded Congress raise the payments from $600 to $2,000 per adult.

In a video address Tuesday night, Trump called the proposed stimulus checks of $600 included in the economic relief bill that Congress passed Monday "ridiculously low" and said the payments should be more than tripled — a proposal that many Democrats immediately lined up behind.
Democrats are quickly trying to get the increased check amounts added to the relief bill. To save face, they are claiming this was something they had wanted to do from the beginning.
You'll forgive us if we cry foul on that one.
If Democrats really wanted to provide relief to Americans, they would have agreed to deal in August. President Trump had called on Congress to pass a "streamlined" bill that focused on relief for Americans hurt by government-mandated shutdowns.
Yet Pelosi refused to make a deal. Only after the election did she admit it was all a ruse—an attempt to prevent Trump from getting another win before the big day.
They seemed all too happy to spend billions and billions on foreign aid, but hand Americans a $600 slap in the face.
Now, we are not in favor of the government spending tax dollars to bail out anyone. But it was the government who shut down our economy, claiming it was the only way to "stop" the China virus.
They also previewed relief checks in the sum of $1,200 months ago. If they are going to make good on their word, they should make good on their word. Not spend billions on others while giving Americans the stiff.
Now, Republican must allow it to go through in the House and in the Senate. We will have to wait and see if they take Trump's direction.
Do you want larger relief checks for the American people?
Key Takeaways:
President Trump called on Congress to provide more in relief checks for Americans.
Democrats in Congress appear willing to cut checks of $2,000.
The "COVID" package has billions in foreign aid.
Source: Fox Business