Hours After Pelosi Commits To Impeachment – Trump's Approval Rating Takes A Sharp Turn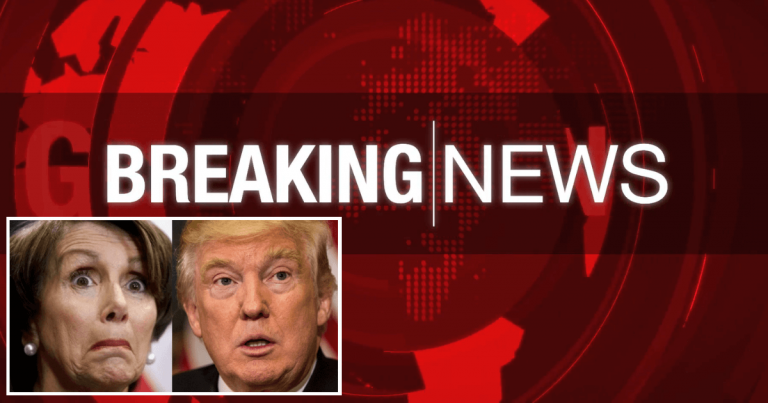 Nancy is all in – and now the American people have responded!
You've probably heard the news that Nancy Pelosi sealed the Democrats' fate with her impeachment announcement.
There's no going back for her or for House Democrats. The evidence against Trump has been slim to none. Pelosi hasn't been able to convince one Republican to join in on her scheme.
Yet she and her Democrats will push their impeachment vote—to the outrage of millions.
Right after she made her announcement, Trump's latest approval ratings were released.
Nancy should be worried.
From Rasmussen Reports: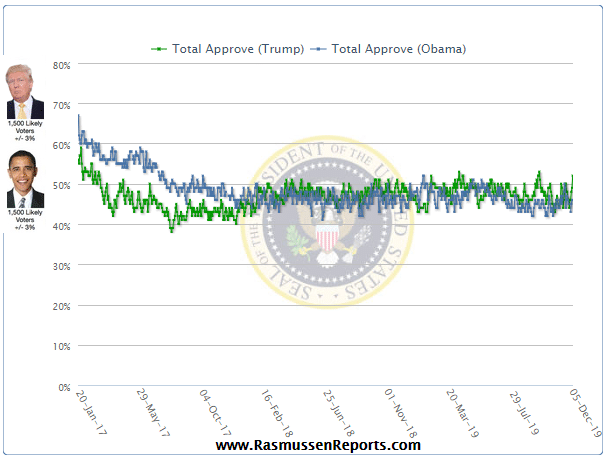 The Rasmussen Reports daily Presidential Tracking Poll for Thursday shows that 52% of Likely U.S. Voters approve of President Trump's job performance.
Wow. After Pelosi orders articles of impeachment to be drafted, approval for Trump hit 52%. Obama's at this date was 46% – and no one even suggested his impeachment.
Hmm… I wonder what Pelosi and Congress' approval is? It's in the toilet, nowhere near close to the president's.
Even after months (and years) of negative news coverage, Americans are still backing Donald Trump.
And the president himself responded.
From Twitter: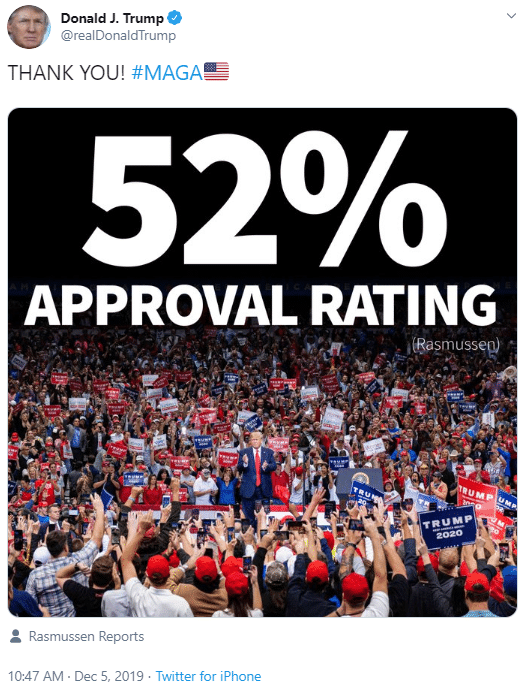 THANK YOU! #MAGA
That thank you? It's not for Rasmussen—it's for the American people who trust their president.
How can this be? Perhaps it has something to do with the fact that, through this impeachment, America has been on Trump's side. Not Pelosi's.
Americans have seen how hard Trump has worked to defend this country. He has helped turn around the economy in ways nobody would have expected.
He has brought back jobs, slashed taxes, and helped increase wages. That's not to mention his success at the border—and his defeat of ISIS.
He's even negotiated ground-breaking progress with NATO–something critics said he would never be able to do.
What has Pelosi done over the last year? Hmm… let me check… oh right! She backed an impeachment inquiry based on a flimsy phone call!
Where's the USCMA? Where is progress on the many issues facing America? They've all been abandoned as Pelosi wastes time on impeachment.
Something tells me she will regret every decision she's made this year.
SHARE if you think Democrat impeachment will lead to a Trump 2020 landslide!