After Pelosi Breaks 231-Year Congress Tradition, Supreme Court Could Strike It Down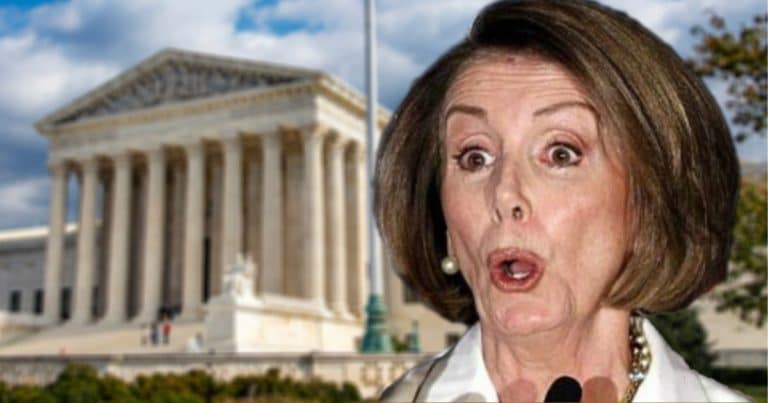 Nancy Pelosi seems to think the pandemic is a great excuse to push her far-left agenda. But she might soon get a rude awakening.
Nance tried to push radical funding barely connected to the crisis. Then, she broke over 230 years of precedent to allow "proxy" voting in Congress.
But House Minority Leader McCarthy and many Republicans are suing her. And it might be taken all the way to the Supreme Court.
From Vox:
On Tuesday, 21 House Republicans filed a lawsuit claiming that the new House rule permitting proxy voting is unconstitutional…

…the Constitution envisions a physical gathering of lawmakers, all in a single location, whenever Congress meets to conduct business.
McCarthy argues in his lawsuit that the Constitution specifically requires lawmakers to be present during a vote.
He claims that Pelosi's support of proxy voting is not allowed under the law.
It's possible this case can go all the way to the Supreme Court, allowing the highest court of the land to rule on proxy voting.
Our Take:
Quite the convenient timing of Pelosi's scheme—I mean, plan. Remember, this is a woman who gave the House an extended vacation during the crisis.
As Americans suffered, she and her Democrat buddies were living it up, eating gourmet ice cream.
Now, she thinks her party can just phone it in—instead of actually showing up for work.
Can you imagine refusing to go to work, expecting someone else to do your job for you? How long will you keep that job?
But that's just what proxy voting means. Other lawmakers (or staff) can vote in the place of the person you elected to represent you.
If they can't even bother to show up, why even elect them at all?
This matter must be taken to the Supreme Court. It's clear that Pelosi will refuse any reason or objection, as long as she is Speaker.
Her hatred for Trump and conservatives will drive her to do more and more radical things. Only the power of the courts will check her… unless she's voted out of office.
Don't be fooled: Pelosi and the Democrats will continue to push these odd and unprecedented changes. Virus or no virus, they want to reinvent our country to suit their agenda.
They must be stopped, once and for all.
SHARE if you want the Supreme Court to shut Pelosi down.
Source: Vox